Willing to improve your new employee onboarding process? Look no further!
A buddy at work program might be just the solution! Buddies can help acclimate new employees to their new surroundings, teach them the ropes, and answer any questions they may have.
If you're looking to set up a successful buddy at work program in your organization, there are a few key things to keep in mind. Read on, and we'll tell you everything you need to know about it!
What is a buddy at work?
A buddy at work is a colleague who you can rely on for support and friendship for the first few weeks of the onboarding journey.
Buddies can help you to settle into a new job, offer advice and guidance, and be a shoulder to cry on when things get tough. Having a buddy at work can make the workplace feel more like a family and can help to reduce stress levels.
Buddies can also be a great source of information, helping you learn about the company culture and how things work around the office.
What are the responsibilities of a buddy?
A buddy is someone at work who is there to help you settle into your new role and work environment.
Mainly, they will:
Show you around the office and/or internal site;
Introduce you to people and help you to understand the company's culture and values;
Help you with the transition into a new job;
Answer questions you might have;
Help you to feel comfortable in your new surroundings;
Provide insight into the company culture and any unspoken rules that you will not find inside the employee handbook;
Provide training if needed;
Give you advice and support, whether you're struggling with a task or just want someone to have a chat with over coffee.
In short, a buddy is someone who will make sure that your transition into a new job is as smooth and enjoyable as possible. So if you're lucky enough to have a buddy at work, make the most of them!
How do I choose an onboarding buddy?
If no buddy system is in place in your company and you're thinking of asking someone to be your buddy at work, look for someone who you get along with well and who you think you can trust.
What is the difference between a buddy and a mentor?
An onboarding buddy is someone who is there to lend a helping hand and support a new hire along the way. They are someone the new employee can rely on and help build a successful onboarding experience in the company.
On the other hand, a mentor is someone who has gone before you and can offer guidance and advice. They can help you learn from their mistakes, avoid making them yourself, and allow you to reach your full potential and achieve your goals.
What makes a good onboarding buddy for a new hire?
A buddy at work can make all the difference for a new hire. They can help with the transition, provide support and guidance, and be a sounding board for questions and concerns.
But what makes a good buddy?
1. Someone with good communication skills
First, they should be someone who is friendly, fun, and easy to get along with.
Indeed, a buddy should be someone who makes the onboarding process more enjoyable and helps to ensure that a new hire feels comfortable in their new role.
2. The buddy has cumulated valuable time & experience in the company
They should also have sufficient knowledge about the company and their department, so they can answer any questions the new hire may have.
3. Buddy's Patience is key
Finally, they should be patient and willing to help, even if it means staying late or taking time out of their own lunch break.
By following these simple guidelines, you can ensure that your new hire has a positive onboarding experience – and a buddy they can rely on.
Onboarding buddy program
What is a buddy program?
One way to help new employees feel welcome and comfortable in their new workplace is to create new hire buddy programs.
Under this program, all new hires are paired with experienced current employees who will act as their buddies on the job, help them learn the ropes, and get up to speed faster.
How do I create an onboarding buddy program?
If you're interested in creating a buddy program to onboard employees more easily at your workplace, here are a few tips to get you started:
– Assign buddies based on interests and skills: Try to pair employees with someone who shares similar interests or who has skills that the new hire may need help with, such as navigating the company's computer system.
– Set clear expectations: Make sure both the buddy and the new hire know what is expected of them. The buddy should be available to answer questions and offer support, while the new hire should be respectful of their buddy's time.
– Have a buddy orientation: Hold an orientation for both the new hire and their partnered existing employee, so they can meet each other and get to know what their roles will be. If they are working from home, you can simply schedule a virtual coffee for them to meet digitally.
– Encourage feedback: Ask both the buddy and the new hire to provide feedback on how the buddy program is working. This can help ensure that the program is meeting everyone's needs.
– Teach your teammates how to be amazing work buddies: Finally, make sure that the onboarding buddies are briefed on how to behave and how to be good buddies. They should know how to handle difficult conversations, be familiar with company policies, and be able to answer any questions the new hire may have.
What is the duration of the buddy program?
Typically, buddy systems are designed to last for the first few weeks or months of an employee's tenure with a company.
This allows the buddy to help the new employee learn the lay of the land and get settled into their new role. After that, the buddy can step back and let the employee take flight on their own.
Of course, there is no hard and fast rule for how long a buddy program should last. Some companies keep their buddy programs going for even longer, while others may discontinue them after just a few weeks.
Ultimately, the decision to extend or discontinue the program will be made by the company's HR department.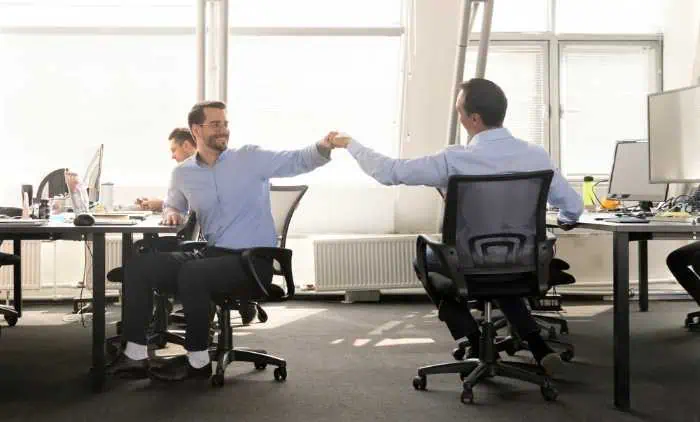 What are the benefits of a new hire buddy program for your onboarding process?
Reduce the new hires' stress
The first week can be stressful. No one wants to feel like they're lost or struggling in an unfamiliar environment.
One of the benefits of a new hire buddy program is that it can help reduce anxiety and stress levels by providing new hires with someone they can trust and rely on.
Help the new hires to feel more comfortable in their new position
The program can also help new hires to feel welcome, more comfortable in their new surroundings, and adjust to the company culture more quickly.
This can also result in increased confidence and productivity levels for the new hires, all ultra-positive for the company.
Build faster working relationships
Furthermore, buddy programs can help to promote team-building and communication within an organization.
Increase new employee satisfaction
A buddy program can lead to increased morale and productivity among employees but also job satisfaction.
Improve employee retention
It can also help prevent new hire turnover, as buddies can provide support and encouragement during those first days on the job, which are usually fragile for new hires' retention.
Digitate discovered that those who had a negative onboarding experience were twice as likely to seek other employment opportunities.
And we know you don't want to risk going through the full hiring process again. So why not think of onboarding buddies?
Conclusion
Onboarding buddies play a crucial role in making the new employees "feel at home" right from the beginning and enjoying a satisfying and successful onboarding experience.
The different benefits of a new hire buddy program make it an invaluable tool for welcoming newbies to the company.
So, if you're looking for ways to improve your onboarding process, consider implementing a buddy program. Your new hires will be glad you did!