The way we work is ever-changing. We are always looking for cool and new ways to get things done faster, easier, or more efficiently.
Sometimes this means that our desks need a little bit of help in the cool department.
From a space saving vertical monitor stand to a connected mug, and everything in between – we've got you covered!
Here's a list of 35 cool gadgets for your workplace or home office desk that will keep you entertained, organized, and efficient during your day!
Coolest Office Electronics
1. Wireless Charger
We start this cool office gadgets list with a wireless charger. Because nowadays, everything becomes wireless, we don't want to bother plugging and unplugging our phones all day long.
A wireless charging station will do the job perfectly, keep your desk free of cables and mess, and admit it – it also looks smart!
2. Phone Projector
Those who have been claiming that a cell phone can now do anything but actually calling, you won't be disappointed. Phone projectors have made their entrance into the electronics gadgets you will need urgently.
The interesting thing about this office gadget is that you can turn any small flat surface into a big screen. You could project your presentation at work or use your phone as a second screen.
And the bonus: At night, use the phone projector to watch a cool movie at home with family!
3. Solar Power Bank
Next on the list, a cool gadget for people who are often on the go. The solar window charger can be used to charge your phone or any other electronic device, any time, any place.
Just place it on your windows, and let the sun do its job! Practical, portable, and sustainable, you will love the Solar Power Bank to recharge any battery.
4. Holographic Companion
Worked from home those past months and missed having the company of your colleagues?
We've got you! Sidekicks.ai is releasing a Holographic Companion based on Artificial Intelligence. This high-tech device is using the latest technology to bring a holographic robot to life and give you some company.
Intelligent and impressive, it is now available on pre-orders only.
5. Silent Mouse
Obsessed with others' office sounds? You are not alone, and we have the solution!
The silent wireless mouse is here to solve your problem. It will work as a regular wireless mouse, but with one cool difference: it makes absolutely no noise.
A great choice for a home office environment, or in an open space.
6. Wireless Noise Canceling Headphones
With all of this home office work made lately, you probably were confronted with random noise quitting your focus.
Wireless headphones will plunge you into a deep work environment, cut you from the outsides and help you remain focused and present during those long hours of work.
7. Touch Screen Sensor
Another great electronic gadget is the new Airbar. This high-tech device is a bar that you can fix at the bottom of your screen and that will work as a touch screen sensor for any laptop or computer.
This actually means you can bring your computer screen to life and give it touchscreen and touchpad features.
8. Multi-device Keyboard
Because one wants practical, portable and universal technology, the Logitech Multi-device Wireless Keyboard will help you optimize your office space and be of good use for any screen you have.
Connected to your other devices such as a tablet, phone, laptop, or others via Bluetooth or USB, use one and only keyboard to write on your different surfaces. Just switch the device you are typing for with a single key and write with your several devices as quick as a flash.
Believe us, trying it is adopting it.
9. Digitalizing Sketching Device
For those creative minds out there, we did not forget about you! The Wacom Inkling Smartpads will help you unleash your creativity.
Using a pen, a normal notepad, and a smart pad underneath, this cool gadget will be connected to your computer and will immediately transcript your notes and drawing digitally.
Innovative, this new technology will allow you to keep the feeling of paper drawing and note-taking, while actually getting into the digital world.
Office Workstation Set up & Posture Accessories
10. Height Adjustable Desk
We all know that sitting is the new smoking, and we need to stand up more often during work.
If you are a standing desk person too, check out some cool accessories like the height adjustable desk or vertical monitor stand.
Stand up, sit, lie on a tall stool, and change your posture once in a while to save your back & legs from pain and injuries while working in front of a computer!
11. Standing Desk Balance Board
If you want to take this standing desk set up to the next level, you could even use a balance board!
The cool standing desk balance board is a perfect tool for those who want to exercise and improve their fitness while working.
12. Portable Laptop Desk
Now if you are feeling like working from your sofa or even your bed, you can think about a portable laptop desk. These trays are made to welcome a laptop, a tablet, and even a cool stand for your smartphone.
It will give you the option to move in different spaces of your home or office while working with ease & comfort!
13. Foot Hammock
Because our feet also deserve some attention… Invest in a foot hammock! No, we are not joking.
Hammocktown designed an adjustable and ergonomic feet hammock to rest your feet while working on your desk. Perfect to get your feet on a holiday while your mind gets into work!
14. Mini Exercise Bike
Now, if you want to get those legs working, nothing gets better than some Mini Exercise Bikes. Place it under your desk, and enjoy some pedalling while your brain does its magic.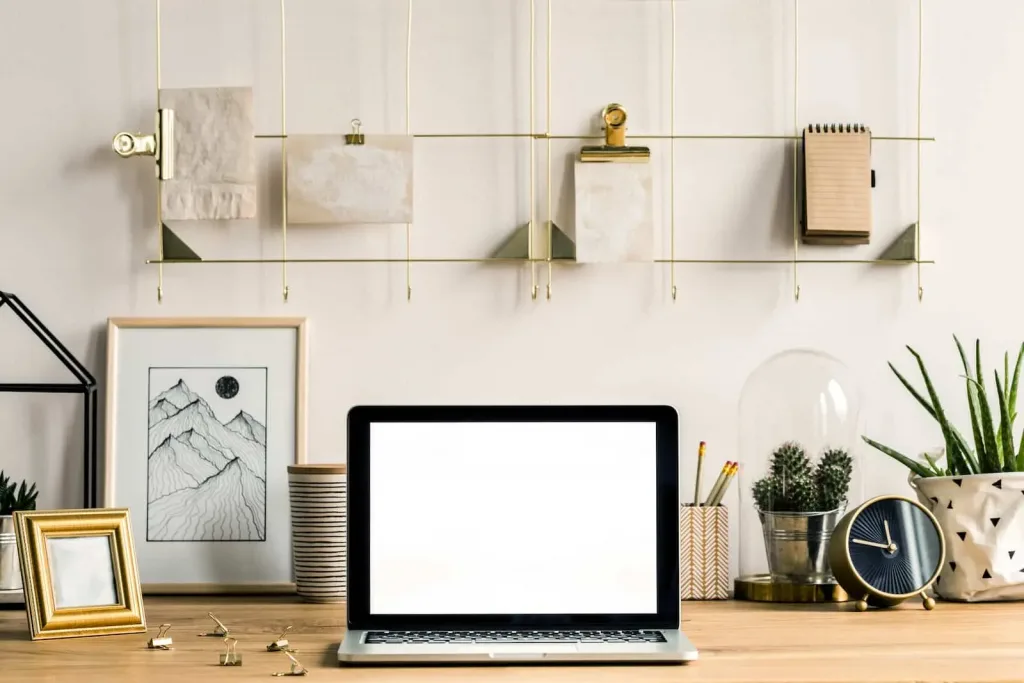 Organizational Office Supplies & Desk Gadgets
15. Mobile Desk Organizer
Familiar with the Marie Kondo method? For those who don't, it basically helps you to take everything out of your drawers, desks, and closets and re-organize it into different categories. Then, only keep what brings you joy!
A Mobile Desk Organizer is perfect to do so in your office area and have a clear mind while working! It will help you keep track of your pens, business cards and be a prime spot for your phone, to always have it in hand.
16. Desk Drawer Organizer
A cool Desk Drawer Organizer will help you keep all of your pens, pencils, markers, office supplies, and desk accessories neat and organized.
And what's more satisfying than working in a clean environment? You know what they say: Clear desk, clear mind.
17. Magnetic Paper Clips Holder
For those who already have cool office supplies, this can be the one to complete your set!
The magnetic paper clips holder is a cool accessory for any desk, as long as you pick the design that will make the difference.
Just place it on top of your desk, and use it to hold all of your paper clips together or also as a nice decorative touch.
18. Label Writer
For all of those stationery fans, a Label Writer is a great office gadget that will make your life easier.
You can use it to label all of the boxes you have in store, as well as any other items around your home or workspace!
It's also an excellent gift idea for those who love stationery and are organized freaks like us.
19. 3D Printer
We can't talk about cool office gadgets without mentioning the future of technology: The Third Dimension!
The 3D Printer is THE perfect office gadget if you want to enjoy some DIY projects with your colleagues or at home. You don't need to be an expert or have a degree in Robotics, Engineering, and Designing.
This tech toy will bring to life your wildest imagination and quickly become the best office attraction.
20. Grid-it Organizational
Cocoon Innovations invented a Grid-it organizational system to keep all of your gadgets ordered and in place.
This system relies on a grid of large elastics where you can store all of your charger, pen, toys, USB keys, power bank, or any other devices.
21. Custom Sticky Notes
Wanna keep your mind organized? Nothing better than those old good Sticky notes.
And for this year, you can even be inventive and get some custom sticky notes, with your name/colors/design you wish. A great way to send some nice messages to your colleagues and bring some love to the office!
Office Gadget Accessories for Ultimate Workspace Comfort
22. Blue Light glasses
Whether you work at home or in an office, it's known that the blue light emitted by our devices is harmful to your eyes.
But good news! Blue Light Glasses will protect them and also help to reduce headaches caused by eye fatigue. And with many emerging cool brands, they don't even look bad with any outfit, we swear!
Check out some brands like Barner or Felix Grey for some nice designs and efficiency.
23. Mini Desk Vacuum
If, like us, you don't know how to say no to a snack, you might wanna consider a mini Vacuum cleaner made for your desk.
Desk vacuum cleaners will keep your desk spotless while you're working (or playing) on the computer!
24. Air Purifier
For great comfort, while working, it's always nice to get some fresh air. Of course, nothing like a quick walk outside once every two hours.
But in between, you could use an air purifier to get rid of impurities and make your eyes less sensitive to allergies.
If you're working in an open space, this cool office gadget is a must!
25. USB Desk Fan
A fan at the desk will keep you cool and relaxed during those hot summer days or if it's simply too stuffy inside.
Perfect for anyone who works in a non-air-conditioned environment.
26. Aroma Diffuser Desk Lamp
If you like the smell of essential oils, this LED lamp and aroma diffuser designed by Ikohs, will certainly make your home or workspace more pleasant.
This cool office gadget diffuses water and oil in the air while providing a soft light to keep you relaxed all day long!
27. Universal Dust Cleaner
Wanna keep your keyboard clean? Check out the Universal Dust Cleaner by Color Coral designed to clean the dust out of your devices, especially their hidden spots like the keyboard.
Made of a sticky gel, just stick it to the parts you want to clean and recover a neat keyboard for great comfort.
28. USB-Powered Feet Warmer
Call out to all of those cold feet out there: We have what you need!
This gadget will give you some extra warmth and comfort on cold winter days. Just plug it via USB into your laptop, and enjoy the feeling of a hot chimenea while working.
29. An Ergonomic Neck Massager
Let's go back to basics.
A massage is always a welcome treat, especially at work! If you don't have time for home massages or just can't afford the luxury of a private masseuse anymore… The ergonomic neck massager will do its best to provide some relaxing and de-stressing moments during your working day.
Games & Entertaining Accessories
30. Desktop Curling
This cool office gadget will relieve your stress and tension by just a simple but fun game.
Don't think about it, get one for you now!
31. Mini Desk Basketball Hoop
A cool way to get your work done with a bit of fun and exercise. Get one of those to relax your mind a few minutes before going back to work.
Great gift for all those office-gym lovers out there!
32. Mini Desktop Bowling Game
If you need a little amusement during everlasting conference calls, check out those Mini Desktop Bowling Games made in Wood.
A simple toy to get a little bit of fun at the office!
Food and Drinks Coolest Office Gadgets
33. Smart and Connected Mug
To make your coffee break last as long as you wish, check out the smart mug made by Ember.
Connected to an app on your phone, this cool office gadget will let you know when it's the right temperature for you to drink your tea, coffee, or any other hot drink. It will also keep it hot for you, as long as you wish!
34. Insulated food bowls
Ever brought your food to work and regretted that you had to eat it at room temperature when it's supposed to be fresh? Then you need to check out S'well Nesting 2 in 1 Food Bowls.
These two wall containers will keep your lunch warm from morning till afternoon and even longer! It's also insulated so that cold foods stay cool until noon or long after.
What more could you ask? – Oh yes, a nice clean design, not that common for food containers.
35. Mini fridge for your desk
Brrrr… What about keeping your snacks cool during those hot summer days? Or maybe have a nice cold beer with your teammates at the end of the day?
It's possible with this cool mini fridge made for your workspace! Simply plug it via USB and enjoy a fresh sip while working hard!
---
This list of cool office gadgets is just a few things that can help you create a fun, comfortable, and smart, office workspace.
If you have any gadgets or tools that we missed, let us know! We love finding new stuff to try out!