There are many reasons why a corporate gifting strategy is a smart move for your business. Corporate gifts don't have to be expensive or deplete your marketing budget and can go a long way in showing appreciation to employees, impress clients and other important people in your company's life.
In this blog post, we'll discuss the benefits of corporate gifting – from increasing employee morale to customer retention – so that you can see for yourself why it's such a great idea!
8 Ways Corporate Gifting is a Smart Move for Your Business
1. Corporate gifting is a great way to show appreciation for your employees, clients, and partners.
The best way to cultivate your company culture is by showing appreciation through giving gifts.
It can be difficult in today's business world, especially when many companies are struggling financially, but there are plenty of ways you can show your gratitude without spending a lot of money.
Whether it's a gift card, a physical item like branded clothing, office supplies, or an experience like tickets to an amusement park or a virtual tour, strategic gifting can go a long way in showing employees how much they truly are appreciated.
Not only does corporate gifting increase employee morale and happiness, but it also helps reduce stress for employees who may be struggling financially at home.
2. Corporate gifts are also a smart business move because they create goodwill with the recipient that can last for years to come.
When corporate gifts are given out to employees, clients, and partners they remember who gave them that gift for years after the initial encounter.
This is why corporate gifting shouldn't be reserved for Christmas or company events. Holiday gifts and business gifts have their place in a corporate gifting strategy, but the more unexpected the gifting experience is, the better. Because who wouldn't love a surprise gift when they're least expecting it?
4. The gifting process establishes trust between you and the person receiving your gift.
When corporate gifts are given out it improves the business relationship between your company and the gift recipient, because they feel appreciated.
A study published by Packed with Purpose found that people who were given corporate gifts valued companies more highly than other companies who gave them no gift.
In fact, 43% who reported receiving a gift from a company were more likely to recommend it.
This trust leads to increased client satisfaction and brand loyalty towards your company.
If you want more information on how to get started with corporate gifting and how it can improve customer relationships, check out this article here.
4. Corporate gifts help increase customer loyalty.
Corporate gifting is not only a great way to build trust with new customers, but it also helps increase customer loyalty.
Rewarding clients for their business with personalized gifts helps to create an incentive-based relationship that has the potential to reap major benefits.
5. Corporate gifts provide opportunities to strengthen relationships with clients and employees.
Many businesses utilize gift-giving as part of their relationship marketing plan. By expressing your respect for that relationship, gift-giving instills trust and creates an unconscious urge to reciprocate the gesture.
Take your gift-giving gesture one step further and personalize the gift. A thoughtful custom gift shows that you care about building strong relationships with them, so they'll be more likely to work with you in the future.
6. Corporate gifts allow you to thank people who refer new customers or clients.
If corporate gifts aren't given out in your business, then your company may be missing out on a valuable opportunity to show appreciation toward someone who referred new customers or clients.
Corporate gifting is much more than just saying thank you for referring business – it can also be a tool used to build relationships with new prospective customers.
If you're looking for ways to show your appreciation towards someone who referred business or clients then corporate gifts are a great way to go.
7. Corporate gift recipients will remember your company's generosity long after they receive their gift.
It's no secret that corporate gifts are a great way to show appreciation toward the people you work with, but they also have another benefit – corporate gift recipients will remember your company for years after receiving their gift.
For example, if your business decides to give out customized phone cases with your company logo on them, then chances are high that people who receive them will still be using them a year or two later.
This means that not only will they be showing off your brand but they'll remember your company as the one who gave them such gift – which is exactly what you want!
8. Corporate gifts are an affordable marketing tool that helps companies stand out from competitors in the marketplace.
There's a reason corporate gifts are such great marketing tools – they help your company stand out from competitors and gives you an edge over the competition.
No one wants to do business with a company that doesn't show appreciation.
Instead of being seen as cold and distant, companies who give out corporate gifts are viewed as generous and thoughtful. Something which can have a huge impact on your bottom line!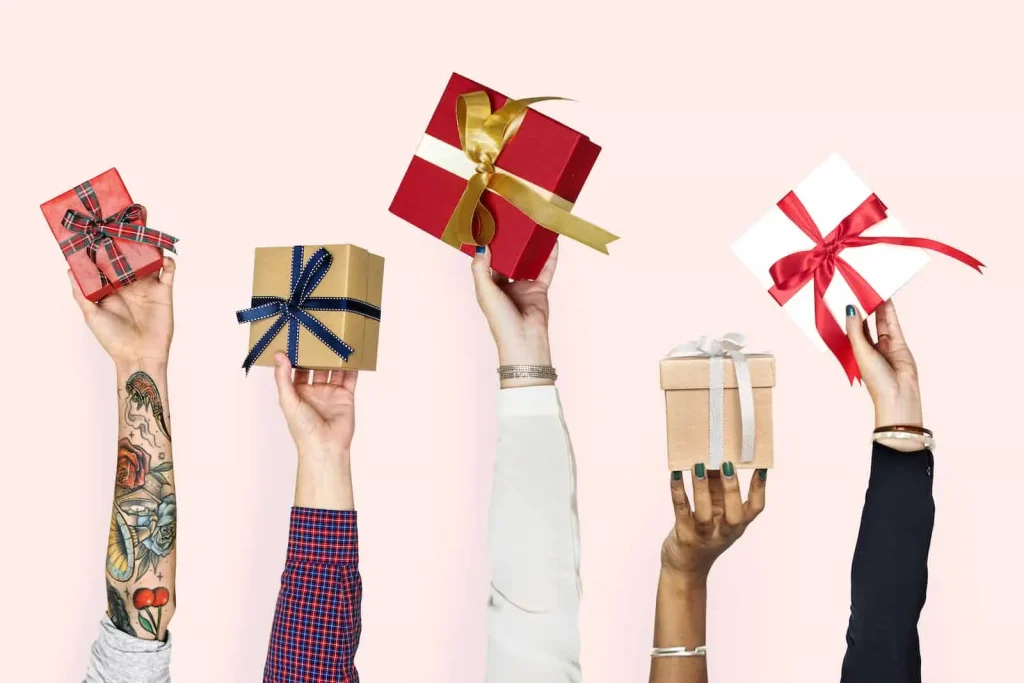 6 Corporate Gifting Strategies That Will Elevate Your Sales
A corporate gifting strategy is more than just branded pens and stationary. It's corporate responsibility, corporate relationship building, and corporate branding.
We don't want you to be stuck with finding the perfect corporate gift program for your clients on your own so we've done the work for you!
Here are six gifting strategies that will help increase sales.
The default gifting strategy – saying thanks.
It's simple and easy to do but can often lack the impact a personalized gift should have on your business.
When you say thank you with a corporate gift, go the extra mile to make it special.
Include a handwritten note or send a personalized gift that reflects the person's interests.
Gifting as a business strategy for customer engagement and retention.
Customers are more likely to become repeat customers if you thank them with a corporate gift.
This strategy has been used by successful brands for years and it works! You can choose from customized gifts, such as personalized stationery or accessories, in order to make your brand stand out.
Give someone a pen, a blanket, or backpack that they'll continue using for years to come, and they'll remember your brand for that long too.
The corporate gift strategy with a purpose – charity donation gifting programs.
Not only are corporate gifts great branding tools but giving back is important as well!
A corporate gift can be used to highlight your business social responsibility efforts by choosing from products like eco-friendly gifts or corporate charity donation programs.
The same Packed with Purpose study found that 33 percent said they're prepared to spend more with a business that gave a gift with a positive social impact.
Adding a charitable touch to your corporate gifting program will show that you care about making the world a better place and this is an excellent way to engage with customers and employees at the same time!
As a way to attract and retain customers.
Giving existing and potential customers a gift that reflects your brand is an excellent way to improve customer retention.
And with so many fantastic corporate gifting companies to choose from, you'll ensure that your organization's name remains at the top of people's minds when they're ready to purchase again.
Connect the gift to a value your company is passionate about.
When you align corporate gifting strategies with your company's core values and beliefs, the results are outstanding.
For example, if promoting environmentally-friendly corporate gifts is important to you and your brand then show that commitment by giving out gifts made from recycled materials.
This will not only reflect positively on your business but also shows how corporate gifting can be a corporate responsibility.
Promote an exciting business opportunity
Launching a new product? Celebrating a business milestone? Why not share and promote your exciting business news with a gift to help create some buzz.
Corporate gifts are an excellent way to train sales teams and entice influencers to spread the word.
A corporate gift is not only a thoughtful touch but it can also be an excellent sales tool if you choose carefully!
---
Once you put into place corporate gift strategies, your business is bound to see an uptick in profits!
These gestures are more than just products. They're tools for better brand engagement and relationship building with customers and employees.
The next time someone does business with you, think of one of these corporate gifting strategies to show them your corporate gratitude.
A successful corporate gifting strategy will not only boost sales but have lasting effects on your customers, partners, and employees.
If you want more corporate gifting how-to's, check out our guide to corporate gift giving for more information.
Happy gifting!