Are you looking for fun and wacky ideas for breakout sessions at your next team building meeting? Well you're in luck!
In this blog post, we'll talk about 25 creative breakout session ideas that can be used to help break up the day. These sessions will keep people engaged and focused on the best parts of their work.
So what are you waiting for? It's time to get started!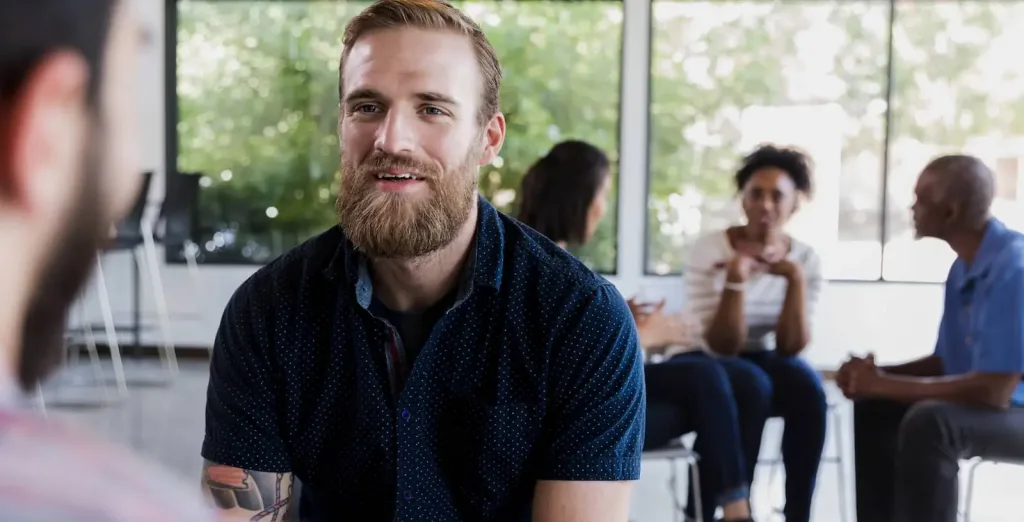 We all know how fun team building events can be. They give your employees an opportunity to get out of the office and spend some time with their coworkers outside of a work environment.
The problem is that when you're planning these events, it can be tough to come up with fun new activities for your employees to participate in.
But not any more. Scroll down for free, easy to do, creative, theme styled, business focused – you name it type breakout sessions that will have your employees talking for weeks!
Artistic Breakout Session Ideas
Calling all inspiring Picassos and wannabe artists! Get the creative juices flowing with these art themed sessions that will be sure to be a great hit at your next conference breakout event!
1. Animal flow
Have each person draw an animal on a large piece of paper, using only lines, without lifting their pens or pencils from start to finish (no erasing or crossing out). Once you've finished, each person will have created a completely unique animal.
Pro tip: challenge participants to draw unique animals only – no duplicates or repeats allowed. Or give everyone the same animal and have them race to finish first!
2. Paint a collaborative portrait
Provide each session group with one or more posters or paintings and ask them to summarize the main ideas or thoughts they took away from the previous presentation.
3. Painting with a partner
One person is the artist and the other acts as guidance, naming colors and shapes. The one creating must listen carefully to their partners directions in order to create what they describe. At first this game may be frustrating for some but once people get the hang of it they won't want to stop.
Sensory Breakout Session Ideas
Sometimes all you need is something fun that simultaneously stimulates your sight, hearing or touch senses in order to re energize and refocus the team.
Here are a couple fun breakout sessions that take advantage of all your senses!
1. Playdough fun for all ages!
This will have your participants feeling like little kids again as they experience the joy that comes along when playing with playdough.
Create two or three small groups and have everyone stand up. Give each person some playdough and challenge them to pass the dough back and forth to each other only using one hand.
Pro tip: try blindfolding your attendees to really turn up the laughs!
2. Bubble wrap art
This is a great way to not only get rid of some stress but also add creativity, color and beauty through bubble wrap designs on paper or poster boards. It's soothing visuals paired with popping noises provide an opportunity for people to unwind while creating something unique at the same time.
Easy, Cheap, Free and Fun Breakout Session Ideas!
Let's call a spade a spade, these super simple breakout session ideas take little to no time to plan or organize and won't break the HR budget piggy bank!
1. The spin the paper breakout session idea
Have everyone in your group try to spin a paper as many times in one minute.
Facilitator pro tip: have some band-aids on hand just in case someone gets paper cuts from all their fun spinning around.
2. If a tree talks in the forest, does anyone hear it?
Have your participants pretend they are tall oaks and try to be perfectly quiet for five minutes. See who can stay silent the longest with no talking, moving or noises at all!
Pro tip: have the facilitator or host walk around making faces or dress up to distract participants.
Host an active breakout session
1. Get zen meditation
While meditation may seem like the opposite of an active breakout session, there are ways to incorporate meditation into a physical activity. Why not try having attendees build a traditional zen rock garden? This is great for groups who need a break and want to get outside!
2. Host a walking tour
Get your participants up and off their chairs and out into the open on a guided walking tour. You can choose to visit a landmark or local park.
Pro tip: you may want to hire a local guide with expert knowledge on the area.
3. Yoga
Yoga is not only relaxing but also a great way to focus and reconnect with your body. Use an empty space or multiple breakout rooms to get everyone together for some yoga stretching poses.
Fun Game Ideas for Breakout Sessions
Play new and old engaging games that test everyone's creativity and knowledge at your next company event.
1. Office trivia breakout session idea
This is a fun way to test how well your teams know each other and can turn into an office championship quickly. You could even use the breakouts as a fun icebreaker for new employees!
Pro-tip: you may want to schedule this breakout session after lunch, when most attendees' brains are working better on a full stomach.
2. Build it with Lego™
Breakout sessions can be fun ways to get more creative with your team. Bring in Lego™ blocks and have teams build something that represents the company or symbolizes a fun activity they all like together.
Pro-tip: encourage groups to try for an interesting shape —there's nothing worse than watching 40 people spend hours trying to stack Legos™ into a pyramid!
3. Host a treasure hunt
Get your participants to work together and find clues that lead them towards the final prize! This interactive face paced breakout session can help your company build trust and teamwork while also adding a twist to the usual conference routine.
Pro tip: make the treasure hunt difficult enough that teams need to work together to complete it. However, don't make it too hard that no one is able to complete it.
4. Office personality Bingo
Get to know your teammates with an office friendly bingo game. Perfect for networking, office bingo replaces traditional letters and numbers with unique characteristics of fellow employees. Instead of calling out numbers, attendees have to speed network their way around the room to find the colleague (or boss) who represents that square on their card to win!
Pro tip: ask participants to share with you in advance interesting facts about themselves that they feel no one else in the office knows about them. Sorry host moderators – you'll have to sit this one out!
Challenging Breakout Sessions
Okay so these breakout sessions aren't exactly wacky or fun but they're sure to challenge your team members in an unexpected way! Bring out the big guns with some of our most challenging breakout sessions.
1. Host an escape game breakout session
Escape rooms are excellent team building activities where groups must find clues and figure their way out of a locked room before the time runs out. You can find them in your local area or you could even create one yourself!
2. Murder mystery
Based on the popular game Clue™, murder mystery games can add fun and excitement to your next breakout session. Have fun creating characters based on real employees in the company or even create a fun mystery scene for attendees to solve!
3. Let the hunt begin!
When was the last time you played a scavenger hunt? This exciting game can be played with a large group of attendees in the same room. Or broken up into smaller teams for a more intimate experience across a larger space and maybe even outdoors!
Pro tip: make sure your scavenger hunt has multiple checkpoints so that everyone doesn't finish at the same time and at the same place!
4. Puzzle day
Buy any jigsaw puzzle from your local dollar store and go over it as a group step by step. The person who puts the most pieces in place wins! This one is great for small groups who need to focus once the breakout session is done.
Educational Breakout Sessions
Who said teaching and learning breakout sessions can't be fun? Happy hour cocktail lesson or cooking class anyone?
1. Host a fun cooking activity
Who's the master chef in your group? Consider creating a simple cooking or cocktail session that fits into your theme of the conference. This one works well with smaller group sizes and requires a lot of preparation in advance but at the end of this session – lunch or dinner will be served.
2. The no-phone breakout session
This one might not have the most fun factor, but at least it's a novelty! Have everyone put away their phones for one hour.
During that hour, have participants carry around with them a notepad and a pen to document what they saw (sorry no selfies), who they spoke with and what they couldn't Google™ or look up without their trusty devices.
3. Mixology class
Love to mix cocktails? Host fun and creative classes that teach attendees how to whip up their favorite drinks.
Pro-tip: consider hosting these sessions during the night time slot so people can relax after a long day of learning!
Team Bonding & Collaboration Breakout Session
1. Who's your office twin?
Have everyone complete a personality quiz while they wait to enter the event room. Based on their results, match them with another guest in the group that has similar characteristics. Once you're all inside, have everyone share their results and why they match with that particular person.
2. The random act of kindness breakout session
Break out sessions can be all fun and games, plus serve a great purpose. So why not have attendees host a random act of kindness breakout session? Have them go out into the community and perform random good deeds or fun surprises for complete strangers. The connections made during this session will last well beyond your team building event.
Out of This World Wacky and Silly Breakout Sessions
1. Nice moustache
Set an egg timer for 30 seconds. Give everyone in the group paper, markers, popsicle sticks, etc to draw as many different styles of moustaches as they can.
Once time is up, have participants cut out their drawings to create Instagram™ worthy props for a group photo.
2. Host a silent disco
Have your attendees break out into a silent disco at your next breakout session! Each guest will be given wireless headphones with two or more channels. They can select different music options and then watch as everyone dances to their own beat simultaneously.
3. Photobombing
Photobombing is a hilarious activity that will have your attendees splitting their sides laughing.
Split everyone up into groups of two or more and give them time to strategize with each other on how best to photo bomb the group shot!
Then have one person in each group take the group shot, while the other attendees stand against the wall. Once it's taken, that person runs around to join their group before someone else takes their spot in the picture.
---
Breakout sessions have seriously evolved throughout the years from their traditional forms of lightning talks and speed networking events to include some seriously entertaining sales team-building activities.
But who says you have to wait until the next conference season? Try out some new activities today at your company's next sales team meeting or department get-together!
Looking for non-cookie cutter team building activities? Want to whisk your employees away to Paris, without having to send your team to Paris?
Get in touch with one of our virtual team building guides and have fun like Apple™, Google™, Airbnb™ did before!
We at Woyago are all about connecting, laughing and learning. Book a custom format event today by clicking here: https://woyago.com/contact-us/.