It's no secret office kitchens can be a little lackluster. But it doesn't have to stay that way!
We've put together some simple tips to make your office kitchen more enjoyable for you and your teammates. All it takes is the right office kitchen layout, equipment, and even just a few minutes of planning on how to use this workspace effectively.
So if you've ever wanted to know what it takes to get your workplace the perfect office kitchen where your teammates can actually enjoy their breaks, then this blog post is for you. Let's get started!
1. Pay Extra Attention to the Office Kitchen Layout
First things first, the office kitchen layout is key. Here's what you need to keep in mind for your office kitchen.
Space considerations
Think about where you'll be putting the office kitchen. While it doesn't have to be right in the office, there should at least be a door that can close off and give some visual privacy to your office kitchen.
You have to think about the several spaces you want to create in that room. It's important to consider the number of employees that actually enjoy the room and use it regularly, whether or not you want office kitchen equipment to be available in or outside the office kitchen (and if so, where), and how much space you're willing to give up.
Counter space
Start with a functional counter space if you have a long wall to work with. This should include a sink and an area for office workers to make or prep their food. Plus, this will make it easier for people to put away their office kitchen utensils and appliances, saving you a little time!
Clear walkways
Make your office kitchen as accessible as possible. This means that there should be a clear path from the entrance of the room to anywhere in the office kitchen.
It's even better if you can keep plants to separate the kitchen from common office spaces.
Think about a seating area
When thinking about your office kitchen layout, make sure there is enough space for a great kitchen table (or tables) that you can place in the center of the room or on the sides.
The office kitchen will probably end up being a gathering place for office workers, so it has to look welcoming, but also to provide enough room for everyone that wants to sit.
Pro tip: If your office kitchen is big enough, you can even think about adding tables and chairs in noise-canceling seating spaces. This will be a great option to ensure employees taking a break and talk as much as they want without disturbing other office areas.
Include a standup area for fast breaks
To get the full office kitchen experience, decide if you want your teammates to sit at a kitchen island or high tables while they eat their food.
If so, office bar height stools are essential! They'll be easier for people to get in and out of, will give you a great visual appeal, and will also help with the office kitchen layout since they're easy to move around as your teammates want to sit or stand around their office kitchen island.
Add a comfy corner
To make it more convivial, think about adding a sofa and coffee table area. This space will be great to share the morning coffee!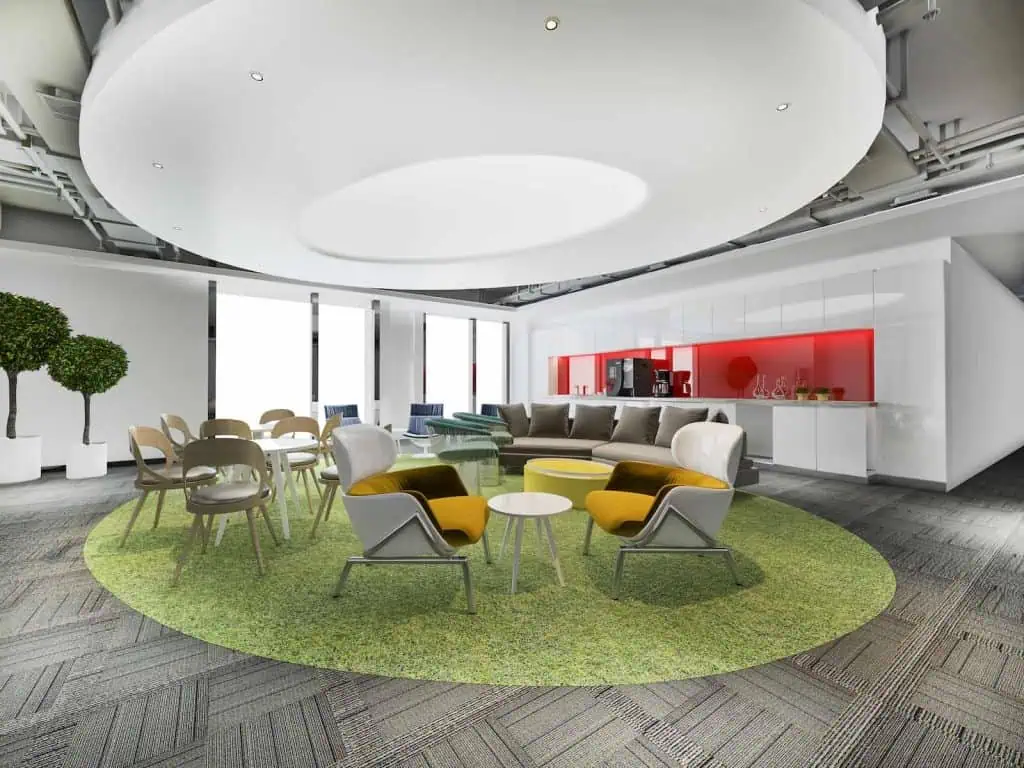 2. Work on a Great Workplace Kitchen Design
Design a nice kitchen style
Once you are done with the layout, don't forget the office kitchen decor!
Your kitchen should be a nice place to go and eat.
Choose equipment that reflects this, like beautiful floor mats with different patterns, office kitchen appliances that match your theme, and bar stools that are comfortable but nice looking.
Pro tip: You can even think about adding some office pendant lighting over the tables. It will make an impression!
Pick happy colors
The kitchen area should be friendly and welcoming. Employees should look forward to their break, have a good time and overall feel great in that space.
To do so, the colors and patterns you will choose play an important role.
To create a room that gets office workers excited about spending time in the office kitchen, choose colors that are warm and casual, to contrast with the style of the other spaces of the workplace.
Once you did, you can apply those to wall painting, cabinets, decoration, pieces of art, dishes, mats, or office lighting, that will bring the room together.
Let the natural light in!
You want office kitchen decor that reflects your office style and office interior design, but you also want office lighting that makes office workers look forward to spending time in the office kitchen.
So don't forget that office kitchens need ventilation and natural light. And, if your office is lucky enough to have a beautiful view, there's nothing wrong with showing it off!
Office plants
Also, never underestimate the value of including some nice plants. They'll bring your office kitchen decor to life.
Pro tip: If you're tight on space but want to include office plants, consider office kitchen potted plants as they take up less room than their pot-less office counterparts!
Think about smart kitchen cabinets
Usually, office kitchens don't have much storage space, so cabinets can provide a good option for office workers to store their food, mugs, or lunch boxes.
As the cabinet shelves and drawers are playing the role of the pantry in the workplace kitchen area, those have to be practical. Make sure you check their height and weight resistance!
3. Kitchen Essentials to Include in Your Office Space
If you're still wondering what equipment to include, don't worry, we've got your back! Here's a list of office kitchen appliances and utensils that should be included in any workplace kitchen.
Big kitchen appliances
A refrigerator is a must. Employees need to be able to bring their own food, drinks, snacks and to keep it cool for the whole day.
What about stove, oven, dishwasher, freezer? Other than a fridge, the kitchen appliances you should include will mainly depend on the kitchen size and team size, but also on your willingness to have your peeps cooking on-site or not.
Microwave
Every office kitchen needs an office microwave oven. It's just basic office equipment! We recommend you include it in your layout.
Water dispenser
A water dispenser is a great office kitchen appliance to add to your break room. It's just a must-have appliance to allow employees to enjoy some fresh water and basically answer a vital need.
Stay hydrated they say!
Coffee machine
No office kitchen is complete without a good office coffee machine!
Coffee makers are a must-have for any office to provide a nice break during work hours or even a more casual space for team meetings. Your employees will thank you for it!
Utensils
If you do provide an oven, stove, or other appliances that will incite your employees not just to warm up their lunch box but also to cook, then you should think about acquiring basic kitchen utensils.
Silverware, glasses & cutlery crockery
Glass cups, plates, forks, knives, and spoons should be included in office kitchens – it's just the basic to eat.
Mugs and bowls are always a great addition for your team to enjoy a nice tea in the afternoon.
Stock up on condiments
To make office workers' lunch experience comfortable, don't forget to stock up some condiments, coffee, and tea.
It's a good idea to have salt and pepper available. Also, consider adding some oils, vinegar, spices, and sauces like ketchup, mustard, and mayo to spice up their food.
4. Keep your office kitchen clean and organized
Make the employees part of the cleaning process
Even if you should have hired a dedicated housekeeper for the building, it is important to motivate all coworkers in keeping the common kitchen, furniture, and dishes clean and organized.
Indeed, now that your office workers are having their food in the office, you can bet they might leave dirty dishes behind. Don't let this happen!
For optimum office hygiene, have some cleaning products ready to be used and inform everyone about cleaning after themselves.
Simple office supplies that can help keep things organized
Use office supplies to keep shelves, storage, drawers, and the food in the fridge organized.
Simple name tags, sticky notes, and markers should do to label your food or territory! 😉
5. Ideas and Tips to Make the Office Kitchen More Enjoyable for Your Teammates and Yourself
Free food
Who doesn't like free food?
To make your employees happy, always have some bowls with fresh fruits, chocolate, or cookies on the table. Your team will thank you for it!
Glow up the break space with fresh flowers
To give a warmer touch, consider adding some flowers. It will make the space more pleasant and help to get your employees' positive vibes for their day!
Relaxing music or TV
If you want to set up a proper atmosphere, make sure to play relaxing background music.
You can also add a small office kitchen TV to catch up on the news for instance.
Keep it green!
What if you implement compost in your office kitchen?
These are not that hard to set up, but they do need to be thought of while redesigning your space. It can be a great way to educate your coworkers on the importance of caring for the environment.
To improve the recycling process, be sure also to consider the right containers. For example, install several bins beneath the sink for various purposes: glass, carton and paper, plastic, and others.
Common garden or fresh aromatic herbs
If you want to bring the kitchen on the outsides, why not thinking about starting a common garden? This one could be simple with fresh aromatic herbs, tomatoes, apples, or let's say cucumbers.
Employees could go there for an outside break, pick fresh fruit, or just water the plants for a relaxing 5 minutes pause. Wouldn't this be amazing?
Quick Office Kitchen FAQs
What is a kitchen office?
An office kitchen is a room located in an office building, designed for office employees to prepare and eat their food.
What does an office kitchen need?
For the basic of the basic, an office kitchen needs a microwave, a fridge, a water cooler, a coffee maker, a few utensils, and of course, all silverware and plates.
As said previously, the best is also to have a nice design and layout, welcoming enough to make your employees want to come in, as well as comfortable furniture, table, and chairs.
Can a kitchen be a home office?
If you're working from home, you can also redesign and rethink your kitchen style and uses.
If you have a large countertop or table with sufficient space and an electric outlet nearby, you can use it as a desk!
This can help you change scenery while still working in your house, which is great for refocusing and being creative.
---
And here you have it: A great office kitchen that your teammates will actually enjoy!
You'll be surprised how much your office workers will appreciate these nice office kitchen additions. Make sure to make it look good and functional enough and we guarantee they'll thank you later.
Remember, in the end, the office kitchen is all about your staff. They're the ones that will be using it day-in, day-out. So they should also have a say in how it's being organized, and consider asking them about the office kitchen decor and appliances they might need.
Thanks for reading and until next time!