Onboarding new employees is one of the most important – and often tedious – tasks for a remote manager. There are so many things to remember and so much paperwork to fill out! But with the right tools, it can be a lot easier.
Luckily, we've put together a comprehensive employee onboarding checklist for you. Plus, we've also included free templates to help keep everything organized.
So whether you're onboarding a new employee for the first time or just trying to get your process organized, check out our list and templates below!
The pre-onboarding checklist
The new hire hasn't entered the building yet, and you already have lots of things to prepare. Here is your cheat sheet to cover all pre-onboarding tasks!
1. Verify the new employee's information
Before you can onboard a new employee, you need to make sure that their information is correct.
This includes verifying their name, date of birth, social security number, and other important information.
2. Verify the employee's job qualifications
Go over the job description with the new hire one more time to make sure she/he is in phase with all stated missions.
It's also important to verify that the employee has the qualifications and skills required for the job.
You want to be checking their education, work experience, and references.
3. Complete onboarding paperwork
Once you've verified the employee's information and qualifications, it's time to complete the onboarding paperwork.
This includes things like the employment contract, tax forms, benefits paperwork, any legal considerations, and any other required HR documents.
4. Set up the new employee's accounts, login, and email
The next step is to set up all login, software, and email accounts so that everything can be ready when the employee starts.
This will help him stay connected and productive from their first day on the job.
5. Plan where will be the workstation for the new hire
You need to decide where the new hire will sit and what type of workstation they will have.
If you're not sure, ask the employees if they have any preferences. Don't forget to order and install the desktop and office chair they will use.
6. Have all equipment and passes ready
The next step is to make a request to the IT department and the HR professionals to set up the new employee's equipment, devices, and badges the new hire will need.
Laptop, access badges to open the main door of the building, meal card, note pad, and any other company branded gift you would like to give the team member for a warm welcome!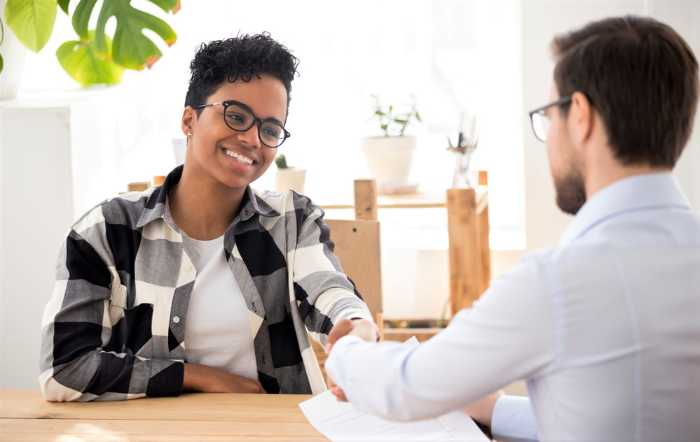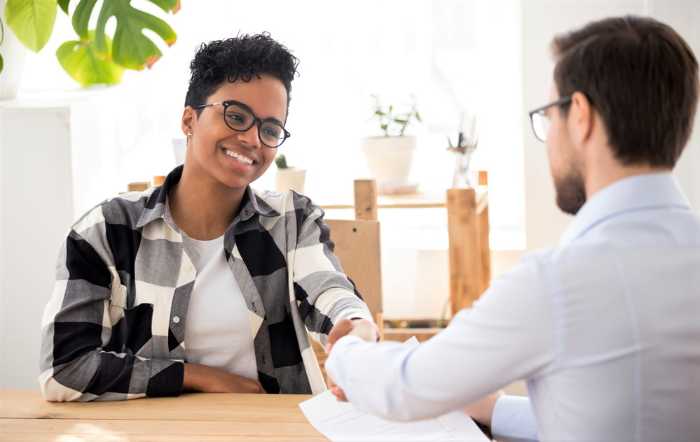 New Employee Onboarding Checklist Welcome Email
With a proper onboarding strategy comes a proper email…
Think of it as a "Save the date" for work. The welcome email is the formal invite to take part in the company's story, so don't forget anything.
1. Congratulate and welcome the new hire
First things first: Congratulate the new team member for doing so well in the hiring process and for getting the job.
Make sure she/he knows that the team is excited to welcome her/him.
2. Include the start date and time
In the welcome email, you should also include the date and time the new employee is expected to start work.
This way, she/he can plan accordingly for their first day.
3. Make sure you send him the office address and details
Include the office address and any other relevant details, such as where to park, how to come with public transportation if that applies, or what to bring on their first day.
4. Indicate what to expect on the first day
The welcome email is also a great opportunity to let the new employee know what to expect on their first day.
This includes who they will be meeting with and what the schedule will be for their first day.
5. List any other company culture-relevant information
Finally, send the new hire all practical information he might need, such as the dress code and the way employees behave with each other in the company.
Suppose they are new in the professional world. That might help them understand and respect the rules of business etiquette in your company.
Ensure that snacks and drinks are provided if there is an office kitchen or even a workplace restaurant.
6. Attach any onboarding materials
The welcome email should also include any onboarding materials. You can think of the employee handbook, the company policies, and all other onboarding documents.
If they need to bring some documents for their first day of work, don't forget to ask them.
7. Give them your direct contact information
If you are the manager, give them your personal phone number if they have any questions or problems on their first day.
If you are part of the HR team, make sure you include the manager's contact details that will be in charge of the new hire.
First day at work new hire checklist
1. Have someone greet the new employee on their first day
When new hires arrive on their first day, it's important that someone is there to greet them, show them around, and bring them to their desk.
This will help them locate themselves and feel more comfortable.
2. Introduce the new hire to other employees
For an effective onboarding process, it is important that the full team (and company) know who the new hires are when they arrive on the team and what they will do exactly.
Send a simple email to introduce any new employee by giving a quick background presentation, telling them what department and team they will be integrating, their roles, and why not a picture.
3. Schedule a meet-and-greet with the team!
Convivial team breakfasts and lunches are a wonderful way for the team members to get acquainted with the new collaborator.
If you can, schedule one that day to give an opportunity for everyone to meet the new hire while having fun off-work time.
4. Give the employee a tour of the office
The first day at work is an ideal time to give the new employee a workplace tour.
This is a great way to help them feel comfortable in their new surroundings and get to know their way around.
If you are part of a large company and are onboarding several new team members at once, don't hesitate to make this fun and interactive!
Pro tip: A scavenger hunt for adults might be a good way to get them acquainted with their new work environment while also increasing communication between the group.
5. Go over company policies and procedures
Next on the employee onboarding checklist: company policies. It's important to go over policies and procedures with the new employees right when they start to avoid confusion.
This includes things like the dress code, attendance policy, code of conduct, vacation policy, and more.
6. Assign and introduce the onboarding buddy
As part of the company mentoring programs, an onboarding buddy is a great way to help new hires feel comfortable and supported during their first few weeks on the new job.
This is someone that they can go to with any casual questions or concerns that they have without having to reach the manager, HR, or IT team.
First weeks of a new hire onboarding checklist
1. Give the first assignments
After introducing objectives and training the new hires, it will be time to assign them to their first projects.
2. Organize a team-building activity
For a great onboarding process, make sure you schedule some team-building activities with your team.
This will help new hires feel like they are part of the team and increase communication and collaboration within the team.
A happy hour might just do the trick as well!
Pro tip: Working with remote employees doesn't mean you can't enhance relationships between team members. If you manage a remote team, have a look at our virtual team-building experiences that will allow your collaborators to connect, laugh and learn all at once!
3. Evaluate and give feedback
Make sure you check in with your new employees regularly to see how they are doing and if they have any questions or concerns.
This is also a great time to give feedback on their work and progress.
4. Schedule a 30-days check-in
The one-month meeting is ideal to ensure all documents, payroll, and other transactions are fully in order.
It's also the opportunity to ask the new hires how do they feel in the company? How is their integration going?
Pro tip: If you want to make sure you have an effective onboarding program in place, the 30-days meeting is ideal to ask the new hires to provide feedback about how did they like their onboarding process, what they would do differently and what did they like the most.
5. Schedule a 60-days check-in
This 2-month meeting is a great opportunity to check the employee's progress and set objectives.
It will also give you the chance to provide feedback on their work and see if they need any additional training to make them an even more productive member?
6. Schedule a 90-day check-in
For the 90-day check-in, the manager will want to see if the new employee could reach the objectives set.
The probation period is coming to an end; it's also time to review their overall performance, the employee satisfaction with their new job role, and their fit with the corporate culture.
You will have to discuss the outcome of the probationary work period.
FAQ: What you might wonder about the Employee Onboarding Process & Checklists
What does the onboarding process consist of?
An onboarding process is a series of planned activities designed to help new employees transition into their new job environment.
The onboarding process should be tailored to the needs of the company and the new employees.
What are the 4 phases of onboarding?
In any Human resources department, you might hear that the onboarding process has 4 phases, also known as the 4 C's:
Compliance – Having filled out all necessary paperwork and making sure the new hire complies with the rules and policies of the company.
Clarification – Verifying that the new collaborator understands its missions and role in the company and in the team are integrated.
Culture – Getting accustomed to the company culture (how people work together, know the facilities, the systems, etc.)
Communication – This is the most important phase of the entire onboarding process as it stands for the new hire finally feeling part of the team. He got to interact and create connections with other existing employees and has found his spot in the organization.
What is an onboarding checklist?
An onboarding checklist is a tool that can be used to help onboard new employees. It can help to ensure that all of the necessary steps are taken in order to properly onboard a new employee and can help to make the onboarding process more efficient and effective.
Using an onboarding checklist can help to make onboarding new employees a smoother and more successful process.
What should be included in the onboarding checklist?
The onboarding checklist should be tailored to the needs of the company and the new employees. However, some common items that might be included are:
Orientation to company culture, values, and goals
Introduction to team members
Ensuring that they have all of the necessary information, tools, equipment, and resources
Make sure that they understand the company's policies and procedures.
Scheduling check-ins for feedback and progress
How do you create an onboarding checklist for new employees?
An onboarding checklist is a great way to help new employees transition into their roles more smoothly. Providing a list of tasks that need to be completed can help ensure that nothing is forgotten and that everyone is on the same page.
Here are a few tips for creating an onboarding checklist:
1. Decide what needs to be included. This will vary depending on the position and the company. Still, some common onboarding tasks include completing paperwork, learning about company policies, meeting with key personnel, and getting set up with necessary equipment and resources.
2. Put it in an easily accessible format. An onboarding checklist should be clear and concise, so consider using a bullet point or numbered list. You may also want to create a separate onboarding checklist for each department or team, depending on the size of your company.
3. Make it available to everyone. Once you've created your onboarding checklist, be sure to share it with the managers and supervisors responsible for onboarding new employees. You may also want to post it in a visible location.
How do I create an onboarding checklist in Excel?
Onboarding new team members can be tough, especially if you're trying to keep track of everything in your head. But don't worry – Excel can help!
With just a few clicks, you can create an onboarding checklist that will help you keep track of all the important details.
To get started, open Excel and click to open a new "File" tab. On the left-hand side, list all of the employee onboarding checklists items you prepared as rows.
On the top, list the new hires you are onboarding as columns.
Select the set of empty cells corresponding to the area, and add some checkboxes.
Now it's time to start filling out your onboarding checklist.
You don't want to bother with creating a new employee onboarding checklist template? We've got you covered!
Download Your Free Onboarding Checklist Template
At Woyago, we created two generic checklist templates to help you build the best onboarding process possible.
Printable Excel New Hire Checklist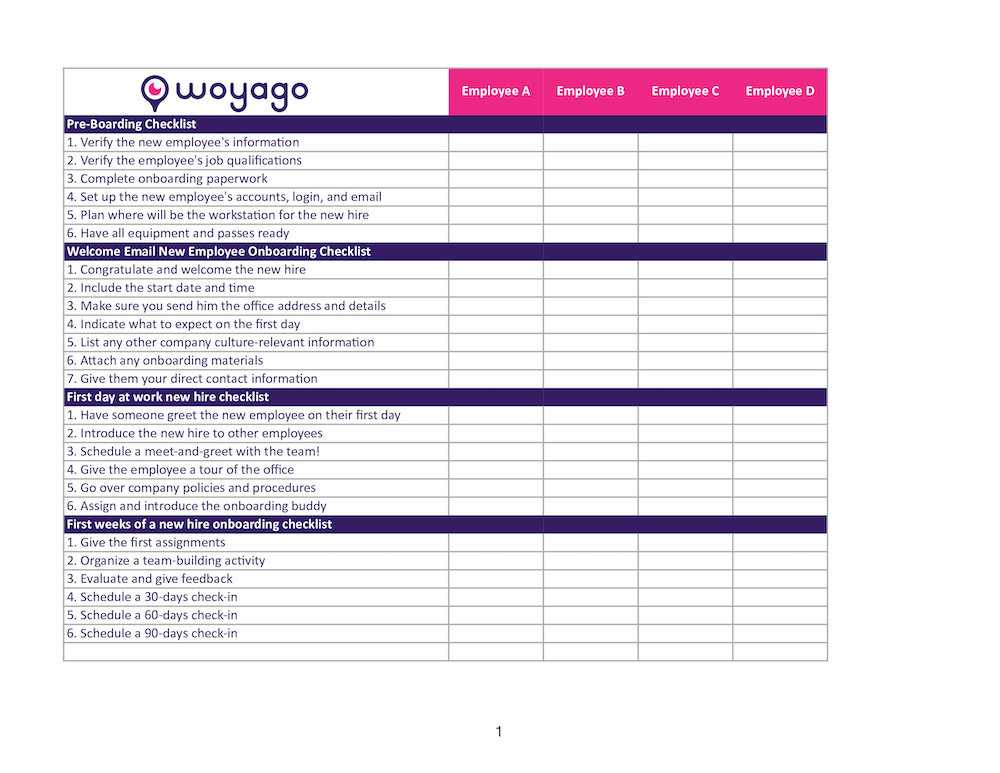 Printable New Hire onboarding Checklist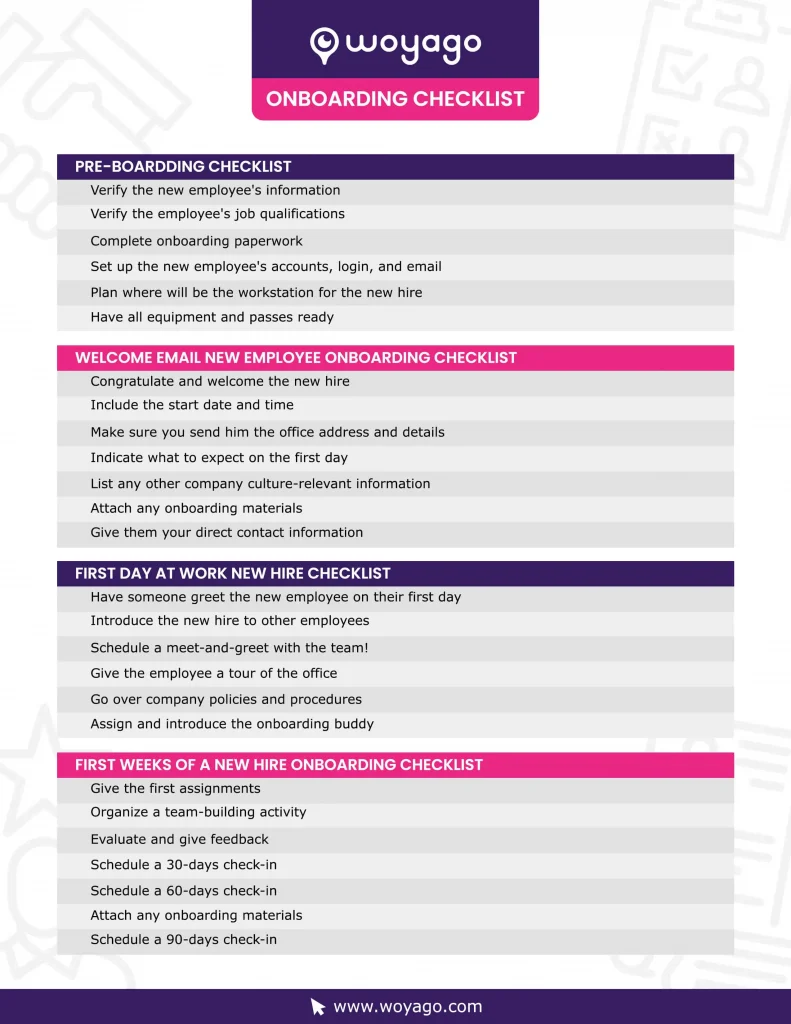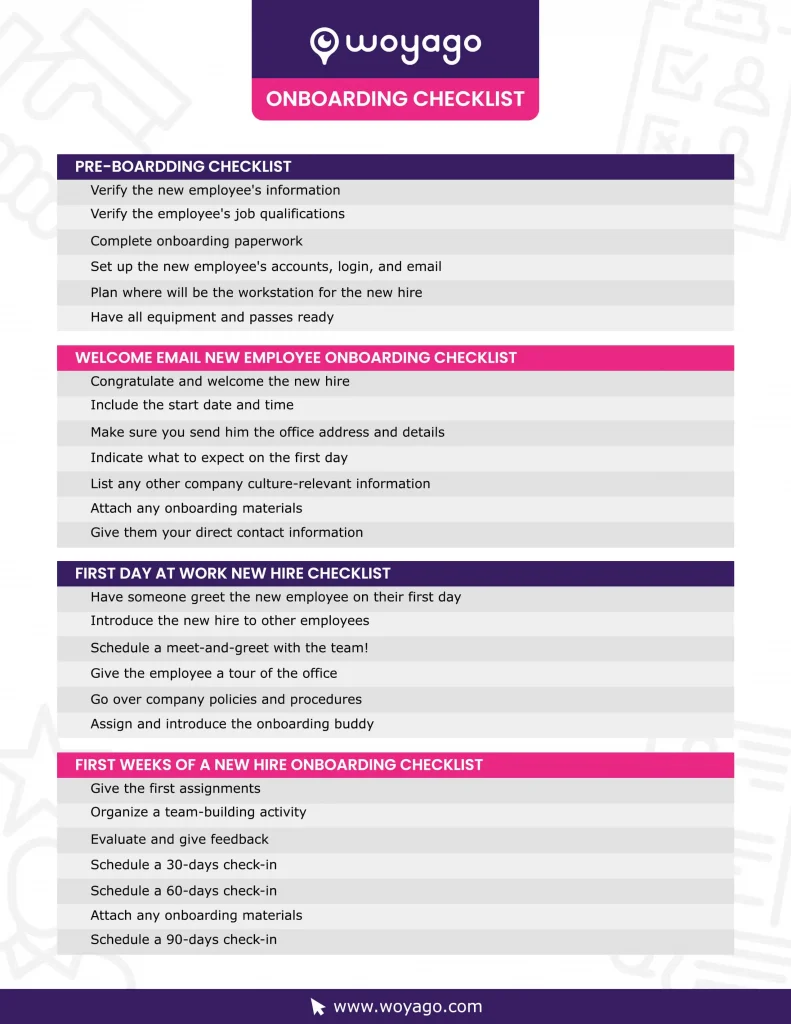 ---
We hope this onboarding checklist blog post has been helpful!
For more tips on onboarding new employees, check out our blog. And don't forget to download our free onboarding templates to keep things organized!