This post was last updated on October, 31st 2022
Mhhh… Can you smell that melting cheese and its best friend red wine as we write? Do you sense that piece of bread slowly melting in a flavory French onion soup? And can you visualize the warm half-cooked dough from the chocolate cake finding its way into the vanilla English cream custard sauce?
Well, no doubt, you are as hypnotized by French food as we are! And if the above wasn't enough we hope this post all about popular food in France will!
You might have heard of France as the "gourmet nation" and it's not by chance. France has surely one of the best – if not the best – cuisine in the world.
With numerous renowned chefs, locals being refined and great eaters, and many fancy or simple restaurants, bistros, brasseries, and other cafes, eating has become for them a way of life and is entirely part of French culture.
Today we want to share with you a piece of this culture and unveil what are the most popular dishes in this country!
Do you love Paris? Wish you get on a plane right now and go?
Well, now you can, virtually of course. Check out our LIVE from Paris Virtual Event ↓ 
Popular French delicious starters
Frogs' Legs / Cuisses de Grenouilles
Let's start this list strong. We introduce to you one of the typical French dishes: frog's legs. This is a dish from the South of France and is mostly served hot.
A typical recipe involves sautéing and seasoning them with garlic butter and parsley sauce or with a more provincial style, in a tomato, garlic, and onion base.
Frogs' legs can make you think about tiny pieces of poultry with a sweeter taste. The meat is quite delicate and soft. The dish is a traditional delicacy, don't miss out!
Escargots Herb Butter Snails / Escargots de Bourgogne
Another typical French starter – which can also be appreciated as a main dish – is the escargots de Bourgogne.
Also called "Escargots au Beurre persillé", they're cooked in a delicious parsley and garlic butter.
The snails are presented in their shells with a little skewer and served in a special escargot tray, usually in porcelain, with several indentations.
The snails are directly put inside this plate in the oven for 10 minutes and presented as is to the lucky diner.
To eat them the French way, get the meat out of the shell with the skewer and enjoy with some fresh bread!
Duck liver pate / Foie Gras
Foie Gras is a starter that can usually be found on Christmas and New Year's Eve tables.
Try it on a piece of toasted brioche or gingerbread, a bit of onion spread, or fig jam. This pate is a classic French delicacy, which can now be found in vegan versions to please every palate.
Soft-Boiled Eggs / Oeuf à la coque
The soft-boiled Egg or Oeufs à la coque are a pretty popular starter in every household.
Quite simply, it consists of boiling your eggs halfway in order to cook the white and leave the yolk warm but raw.
With your knife, tap the top part of the eggshell slowly, it should break off easily.
Add some salt, pepper, or even a bit of chili powder to spice it up, and dig in there with your buttered pieces of baguette, that you previously pre-cut into long and thin pieces. Enjoy!
Scallops au Gratin / Coquilles Saint Jacques
Let's go now to the seaside of French food with the Coquilles Saint Jacques, a typical starter for the end of the year celebrations.
Discover French cooking at its best with sautéed scallops in white wine, butter, and fresh mushroom slices. They are then added into their original shell with a delicious bechamel sauce and leeks or even small brown shrimp.
Topped with breadcrumbs and Gruyere before being broiled under a hot grill, this starter goes along so well with a nice dry white wine.
Oysters / Huîtres
Oysters are also a popular French food, even though they're usually consumed while on the west coast or for special occasions.
Us French usually eat them alive with a splash of lemon. However, know that if you prefer to avoid eating them alive, some French cooks also prepare them in the oven. A touch of champagne, seasoning, and cheese, simply makes them perfect!
French cheese and cold cut platter / Planche mixte
Some people say that they have a different cheese for each day of the year… Yes, France is known for its wide varieties of cheeses and with the Planche mixte, you get to have a quick overview of the French array.
Often ordered in cafes or brasseries to open appetites or as a snack to share, the planche mixte also comes with cold cuts for you to find the perfect associations. Mix this with red wine, grapes, and walnuts and you'll be transported to food paradise.
Note that if you don't try it as a starter, the French usually serve a tray of cheeses with salad after the main. Two chances then to get your french cheese dose!
Did you know that there's actually no need to go to France to enjoy this starter? A more economical and quicker way to travel for a French culinary experience is to book a virtual picnic in Paris with us! Check out our tour here!
Most popular food in France for main dishes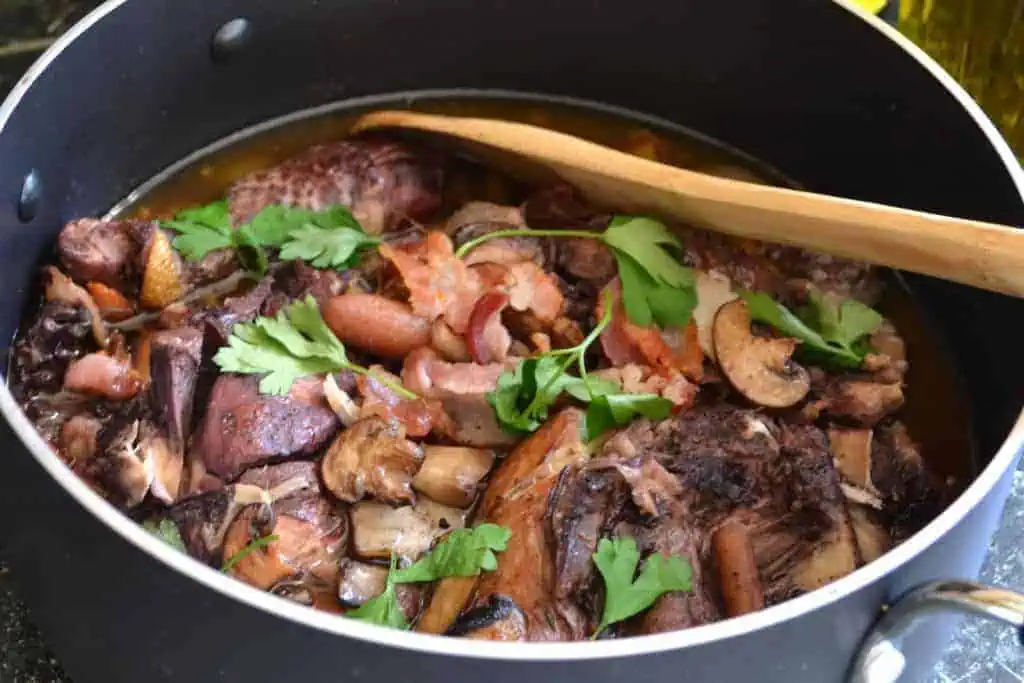 Rooster in wine / Coq au vin
The Coq-au-vin, literally "rooster in wine", is a symbol of French cuisine. Though there's some uncertainty about the history of this legendary recipe, coq-au-vin dates back to Julius Caesar.
As a sign of intimidation, Julius was sent a rooster as an insult from the enemy. It is said that Caesar returned the gesture with an invitation to dinner, and as a main dish had the rooster cooked in wine for them to feast on.
But enough about history, the coq au vin is a cooked rooster marinated in red wine with bacon, carrots, onions, and mushrooms, making this ensemble a very flavored stew and meat. It's usually presented with potatoes or pasta.
Steak and French Fries / Steak Frites
The "steak and fries" is one of the most famous platters you could find in a French brasserie.
Served with a salad, this simple yet very efficient and appreciable plate will satisfy all meat lovers. And honestly, what can be better than perfectly cooked fries to go along with a steak?
Steamed Mussels with White Wine / Moules Marinières
Discover mussels as you have never eaten them before: Cooked in white wine with shallots, parsley, and celery stalks.
Served with French fries that you can dip in the broth, you will find the perfect match with a white dry and fruity glass of wine or with a fresh blond beer.
If you ever go to France, make sure to eat them fresh from the sea on an ocean-view terrace.
Tartar Steak / Steak tartare
Steak tartare is a classic long-standing French bistro plate of raw ground beef served with a raw egg yolk on top. It is then seasoned to your preference with sliced pickles, salt, pepper, shallots, capers, English sauce, and dipping sauces such as mustard, mayonnaise, or ketchup. It comes with French fries or mixed greens.
Originally, it was the Russian sailors who brought the habit of eating raw meat to Europe during the 17th century. At this time, Europeans weren't used to eating raw meat yet.
Nowadays, a few people might still have some doubts about trying this dish, but we can guarantee that the daring ones will be highly and tastefully rewarded.
Pan fried Sole / Sole Meunière
The classic fish dish Sole Meunière is a first-class meal that is cooked with butter and lemon. The special trick is that the sole has a thin and delicious crust made from flour. A pinch of fresh parsley then comes to the end of the preparation.
Enjoy this with rice, boiled potatoes, or cooked vegetables. The light taste makes it very easy to eat, and the balance between all ingredients will make you want more…
Omelet / Omelette
One of the most popular french foods might be the "Omelette". Scrambled eggs and a spoon of water or milk, is the secret to cooking an amazing omelet.
Popular add-ins for this dish can include ham, a pinch of gruyère, and mushrooms.
But did you know "Omelette du Fromage" is not a thing in France?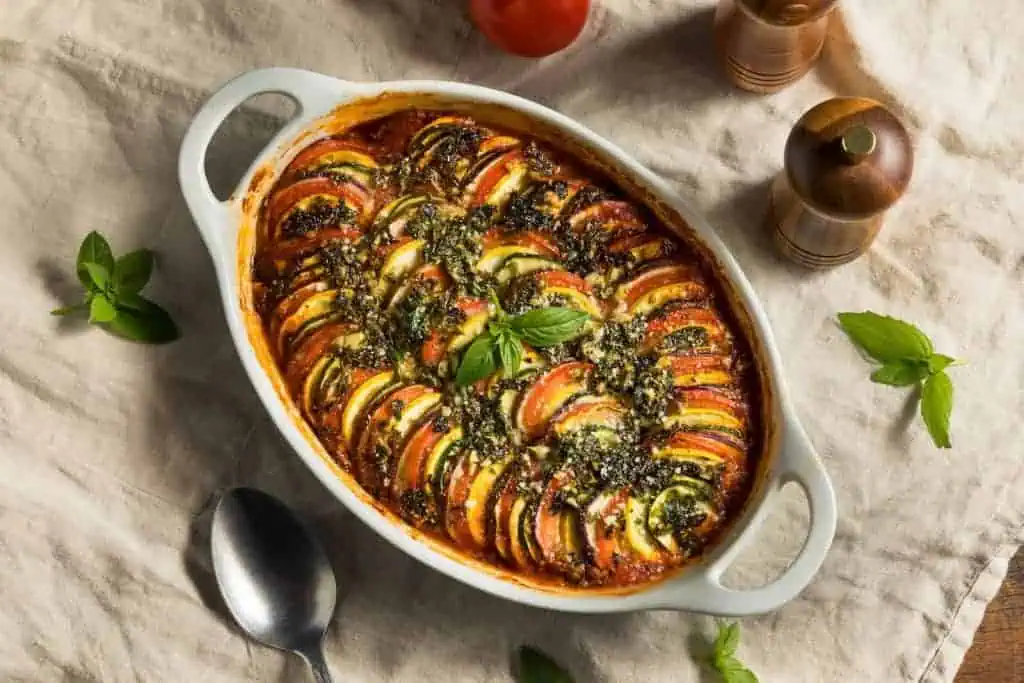 Ratatouille
More appetizing than the famous Parisian rat, Ratatouille is a thick stew made of tomatoes, bell peppers, zucchinis, eggplants, onions, and garlic.
This summer dish is traditionally served as an accompaniment to meats, especially grilled or roasted, but the real fans can also eat it alone, as a vegetable stew. It can also be part of the main course like ratatouille with lamb chops.
Ham and butter Sandwich / Jambon-beurre
The Jambon-beurre sandwich is Paris street food at its best. This great sandwich is all about the quality of the carefully-selected three ingredients: Parisian ham, salty butter, and a fresh baguette.
You may also want to try the ham and cheese or ham and pickles version!
Breton Buckwheat Crepe / Galette Bretonne
Did you know there was a savory version of crepes? Yep, us too, we are already salivating.
The "Galette Bretonne" is composed of a buckwheat flour crepe, which makes it more crusty than the original crepes. Topped with ham, grated cheese, and egg, try out this amazing combination that usually goes with a cup of cider!
Nicoise salad / Salade Niçoise
The Salade Nic̝oise is a typical French salad from the Provence region. This salad is named after the city of Nice, where it precisely comes from. It is either eaten on its own as a light meal or as a starter.
The original salad is a mix of lettuce, fresh tomatoes, hard-boiled eggs, canned tuna, herbs, anchovies, and black olives. There are plenty of different variations to pick up from several cooks and households, you will be sure to find one that you like.
Croque-Monsieur
The Croque-Monsieur is a traditional French sandwich made of butter, mustard, ham, and cheese. It's eaten after being toasted so you can enjoy the melted cheese coming off the warm and crispy bread. Some recipes include a bechamel sauce on top, but this is not always the case.
The perfect dish to make at home if you're in a hurry!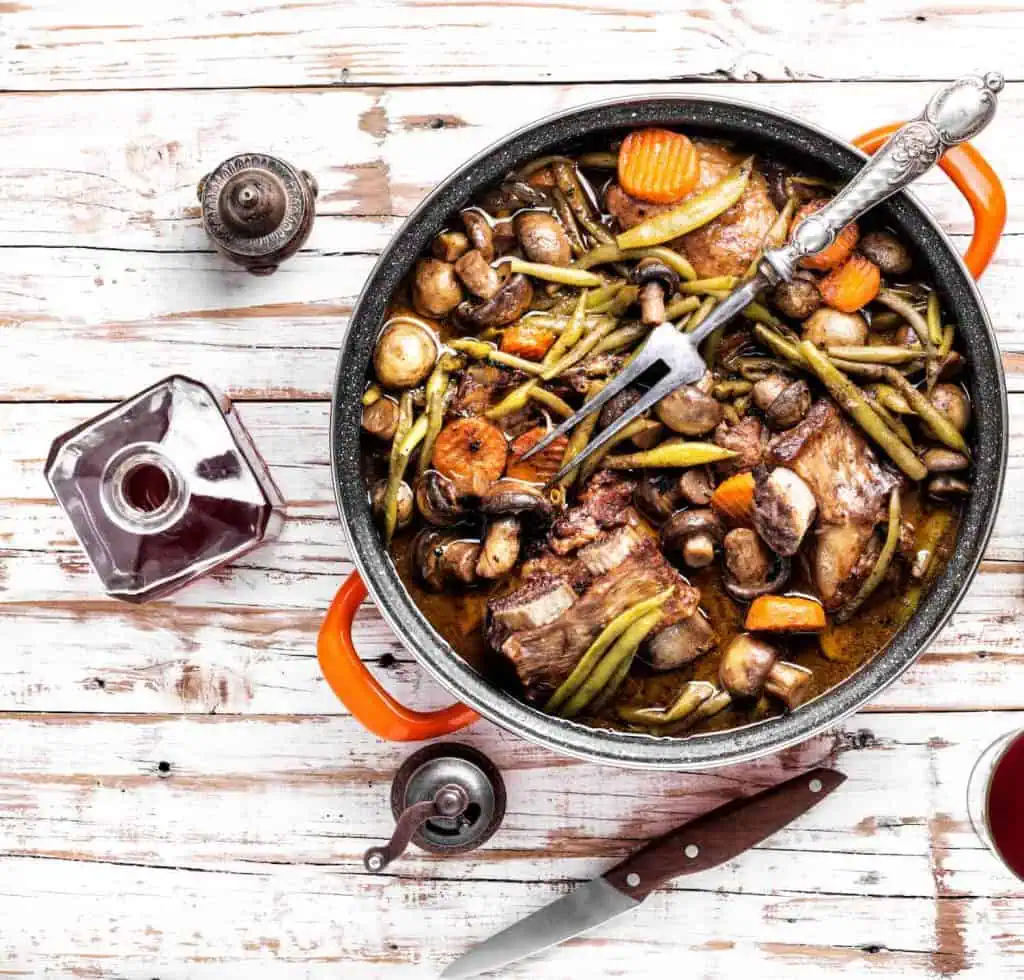 Beef Bourguignon / Boeuf bourguignon
Boeuf bourguignon is essentially a stew made of beef braised in red wine and beef broth. The dish hails from the Eastern region of France, in Bourgogne.
Previously a peasant dish, it is now a staple in French restaurants and around the world. By turning a budget cut of meat into great elegant food, this dish showcases the great art of cooking "à la Française".
It is made of pieces of beef, cooked with mushrooms, garlic, bacon, and onions. The meat is then tenderized in red wine from Bourgogne for hours, or up to two days. You'll enjoy this dish with potatoes and carrots.
Cassoulet
Originally a dish from the southern city of Toulouse and its surroundings, cassoulet is made of pork, duck, different types of sausages, and a lot of white beans. The dish has been enjoyed for years and years and still continues to be a favorite in France.
This dish is a rich, hearty meal that is best known for those colder months. The name of the dish comes from the pot, "cassole", that the dish is traditionally baked in.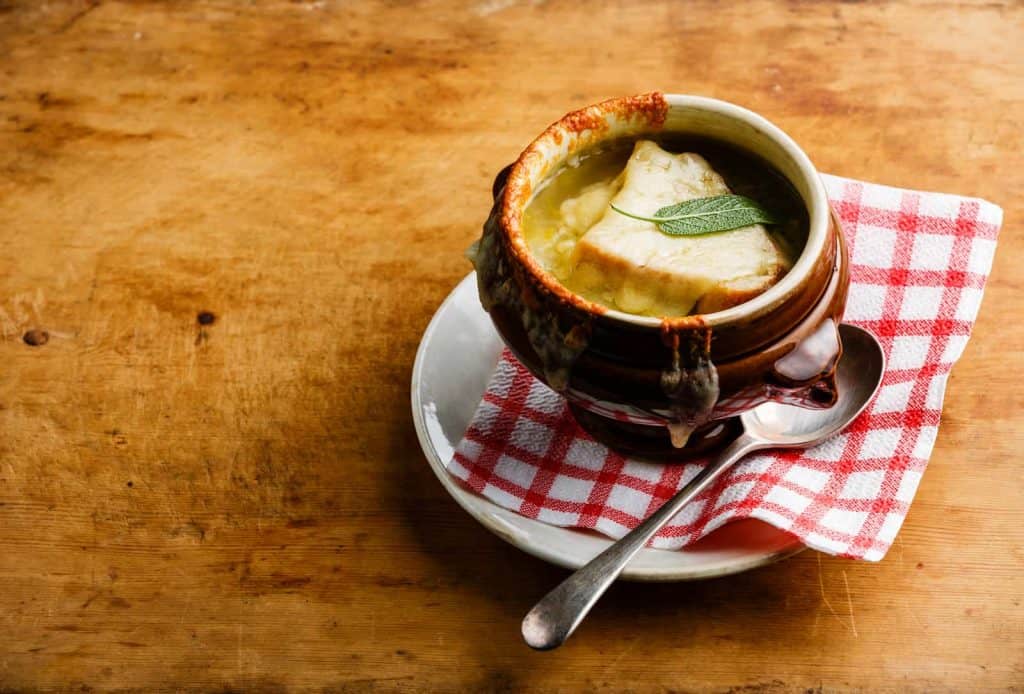 Soupe à l'oignon / Onion Soup
What can be more French than the "Soupe à l'oignon"? This soup was a popular dish from the 18th century and was actually seen as a poor person's dish. It has now become very popular and chefs such as Alain Passard have even revisited the soup in recent years.
Considered a typical French dish, the traditional French soup is made of onions and beef stock. Most soups are usually served with croutons and melted cheese on top. The unique flavor comes from the caramelization of the onions, especially those which have brandy or sherry added during the slow-cooking process!
Bouillabaisse
The Bouillabaisse was invented by Mediterranean fishermen based in Marseille. The dish is a well-seasoned soup made mainly using fresh rockfish and mussels, some vegetables such as tomatoes, leeks, onions, and garlic. But the fish broth really comes to life after adding white wine, saffron, laurel (bay leaf), olive oil, and the final touch, dried oranges.
The stew typically simmers for several hours before being served in a big pot with bread. Enjoy together with friends and families.
Veal Stew / Blanquette de Veau
A veal stew is a rich French dish made with large chunks of seasoned and cooked meat. The stew is then thickened by the addition of egg yolks, sour cream, and white wine. Vegetables can also be added to the preparation such as carrots, mushrooms, celery, and onions.
This slow-cooked meal can be accompanied by rice.
Basque Chicken / Poulet Basquaise
One of the richest regions in French cuisine is the Basque country and Poulet Basquaise is just one of their delicious specialties.
The Basque chicken is a full dish where the chicken meat is made tender by use of "piperade", a sauce made of bell peppers, onions, garlic, tomatoes, and Espelette peppers.
Raclette
Raclette cheese is one of those winter French foods you'll never forget. It has been imported from Switzerland but is commonly appreciated in any household or restaurant.
The name stands for a Raclette cheese, melted at your convenience on a raclette table grill and eaten with cold meat, potatoes, bread, and pickles. This is the ultimate winter-friendly meal and is said to be the perfect way to eat during winter…
Alsace Quiche / Quiche Lorraine
The Alsatian tradition of a Quiche Lorraine is a tart topped with a mixture of cream, milk, eggs, nutmeg, gruyere cheese, onions, and lardons (bacon). These ingredients give a slightly smoky flavor, which is much appreciated in France.
Originally the crust was made from bread dough, but this evolved into the lightest, melt-in-your-mouth pasty. It actually just takes one bite of the dish to know just how good a quiche can really be.
It has also become popular with slight variations such as adding mushrooms or leeks. Nowadays, you can also find more modern versions of the quiche in bakeries and restaurants.
Flemish Carbonnade / Carbonnade Flamande
Coming from the North of France… La Carbonnade Flamande!
This dish is made of pieces of beef slowly cooked in a light beer, aromatics, gingerbread, brown sugar, and mustard. You can enjoy this flavored dish with fries or boiled potatoes.
The North French cuisine is famous for its close-knit community in Belgium and it actually has a large selection of beers and homegrown beef.
Dauphinoise Potatoes / Gratin Dauphinois
The gratin dauphinois is traditionally made of sliced potatoes cooked with cream, milk, and nutmeg in the oven.
No cheese is added in the original recipe but there might be some on top of it when ordered. This dish is so popular that everyone likes to cook it their own way.
Tartiflette
Another light and healthy dish, uh, sorry, we meant tasty and cheesy… The tartiflette. It is made with potatoes, onions, bacon, and strong grilled Reblochon cheese. Traditionally it is baked, but at the markets, it is prepared in a ginormous paella-like pan.
You can find the dish being prepared at many of the Paris market stalls over the Christmas period. So if you head to Paris in winter, make sure you try this!
Best French desserts to end a perfect meal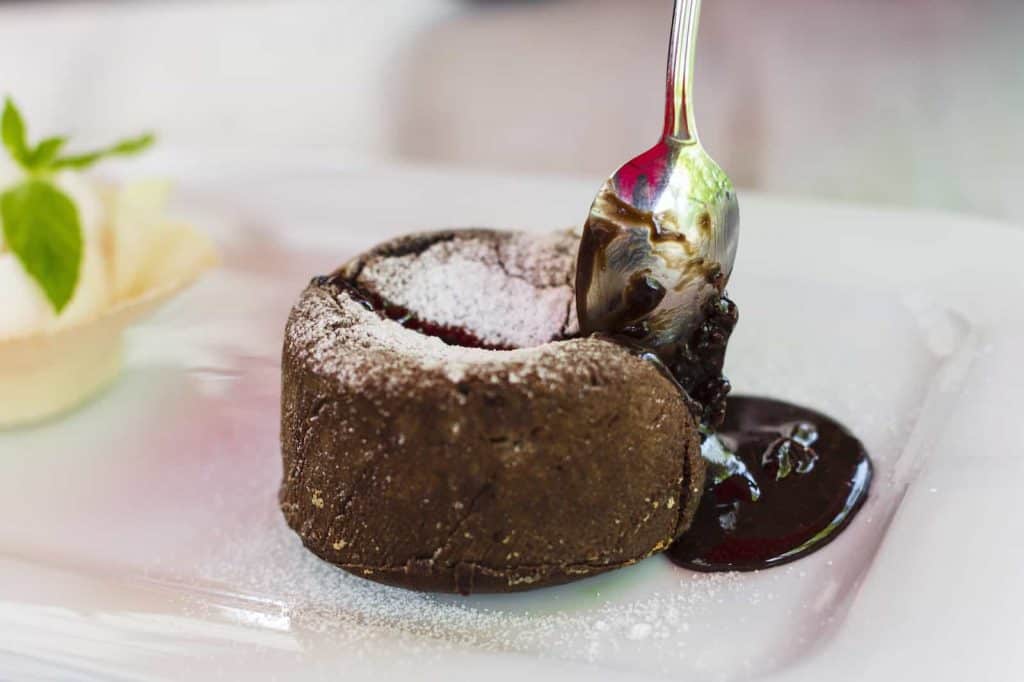 Chocolate soufflé / Soufflé au chocolat
Since the 18th century, soufflé is an airy dessert that has convinced the most exigent palates of the world.
The word soufflé actually comes from the French verb "souffler" which means "to blow", such as blow air. And you would understand why… Break its crispy crust and go straight to paradise with this chocolate foamy-like heart!
Crepes / Crêpes
French crepes are very thin pancakes that can be eaten for breakfast or dessert.
Crepes are very tasty even when only sprinkled with sugar and folded. But you can often find them with sweet fillings such as chocolate sauce, spreads, marmalade, whipped cream, or fresh fruits.
Tarte Tatin
According to culinary legend, Stéphanie Tatin, chef of the Hotel Tatin, accidentally left apple pies cooked in sugar and butter. In a hurry to save the apple pie, she put the pastry base on top of the burning fruit and put it in the oven. The result turned into an upside-down tart, called la "Tarte Tatin".
Like the story stated, this "upside down" apple tart is now made – on purpose obviously – with apples caramelized with butter and sugar. The crust is added on top before baking. When it goes out of the oven, the tart is turned and presented upside down.
Crème brûlée
The dessert crème brûlée is a custard-based dessert topped with a contrasting layer of hard caramelized sugar to the top of it. The custard is made of egg yolks, sugar, and cream.
It is traditionally flavored with vanilla, and let us tell you it is still the most delicious way to eat one. But nowadays, you'll also find different custard flavorings, like coffee or fruit combinations such as a layer of fruit puree.
Floating Island / Île flottante
The floating island was created by a mixture of whipped egg whites that are slightly and precisely cooked in the oven for a little while. It is then served on top of an English vanilla-type cream.
The combination is served cold and gives us the feeling of a floating island, which explains its name.
Profiteroles
Profiteroles are small pastries filled with vanilla ice cream. They are usually served with hot melted dark chocolate and whipped cream.
The confrontation of cold and soft vanilla taste with hot and intense dark chocolate will make you fall in love with this dessert.
Chocolate fondant / Fondant au chocolat
The fondant au Chocolat is one of the best-known French desserts. It is a chocolate cake cooked in a way that the heart of the cake is still warm and liquid.
It pairs very well with vanilla English cream custard. Its softness makes it an extremely pleasant dessert to eat as well as its taste that will make you want more!
Apple Tart / Tarte aux pommes
The apple tart is a traditional dessert that has been reinvented by French chefs to be more elaborate and refined.
French people are used to eating it because of the fresh apples, which are abundant in the country.
This tart is made of sliced apples on top of an apple sauce before being cooked in the oven. Some brown sugar and butter can be added on top to get a caramelized and delicious coating.
Macarons
To end our list of popular French food, we are naming… The macarons.
Macarons, in France, are made with almond flour, egg white and sugar. Good macarons need to be crisp on the outside and slightly chewy on the inside. But at the same time, they need to melt in your mouth.
They come in a vast array of flavors and colors such as strawberry, coffee, vanilla, lemon, chocolate etc.
They're not easy to transport or store, so they must be eaten quickly, usually the day they are baked. What a shame, right?
All you want to know about French food
We hope you enjoyed this extensive list of popular food in France. Here are the top questions and answers you have been asking us about French food.
What are 10 famous French foods?
The 10 most famous french foods over the world are:
The croissant
The baguette
The coq au vin
The ratatouille
The boeuf bourguignon
The quiche Lorraine
The escargots de Bourgogne
The onion soup
The macarons
The crème brûlée
What is France's national dish?
There are many options to choose from, but France's national dish is probably the Boeuf Bourguignon. Well known in and outside France, it represents the beauty of the cuisine by transforming a simple piece of meat into an intensely flavored dish, only composed with national ingredients.
What are the most popular cuisines in France?
French cuisine is one of the world's oldest and it has evolved throughout history. Popular cuisines include Bistronomie, Gastronomie, Nouvelle Cuisine, the Molecular cuisine, Farm-to-table, or those who follow regional traditions such as Bretagne.
What is the most popular drink in France?
Without any doubt, the most popular drink in France – other than water – is wine. With friends or family, day or night, the French enjoy a great glass of wine.
Whether it is white, rosé, or red, wine is the perfect refreshment for a pleasurable moment. There's even a French saying – drink a glass of red wine a day to keep the doctor away.
Which food from other countries is very popular in France?
In France, other types of food from different countries can be found such as Middle-eastern, Japanese, Thai or Mexican food. French cuisine also has strong influences from their neighbors such as Belgian, Italian, and Spain.
___
If you want to know more about French cuisine and other popular French foods, make sure to ask us your questions on social and don't forget to have a look at our virtual tours too. You might really enjoy the Virtual Cooking classes with a Sassy Parisian!