This post was last updated on, August 13th, 2022
Need a few virtual happy hour memes to help get you in the mood? With many teams working remotely now, virtual happy hours have become something of the norm. And with some companies no longer conducting in-person happy hours to enhance team bonding, the situation has made it necessary for companies and employees to adjust to the new setting. As such, many companies have introduced virtual happy hours to maintain company culture and employee engagement.
A virtual happy hour is a social event for employees to relax and enjoy together over video conference calls such as Zoom, WebEx, Google Hangouts, Microsoft Teams, and others. Here, employees can celebrate their successes, strategize on roadblocks, introduce new employees, meet new friends and enjoy themselves, similar to the traditional happy hour gatherings.
You could conduct a virtual happy hour every year, half-yearly, quarterly, or even monthly. But once a year is a long period for employees to bond; at least every quarter is reasonable.
To ensure a successful virtual happy hour, you'll need to be innovative in your planning. It would be best to structure the virtual happy hour meme so that everyone feels engaged and delighted in the event activities.
Explore the collection of virtual happy hour memes to help you host memorable virtual happy hours. Identify the memes that will prompt your team to form close bonds and develop positive relationships between them. Then, choose those that your team will enjoy most.
Examples of Virtual Happy Hour Memes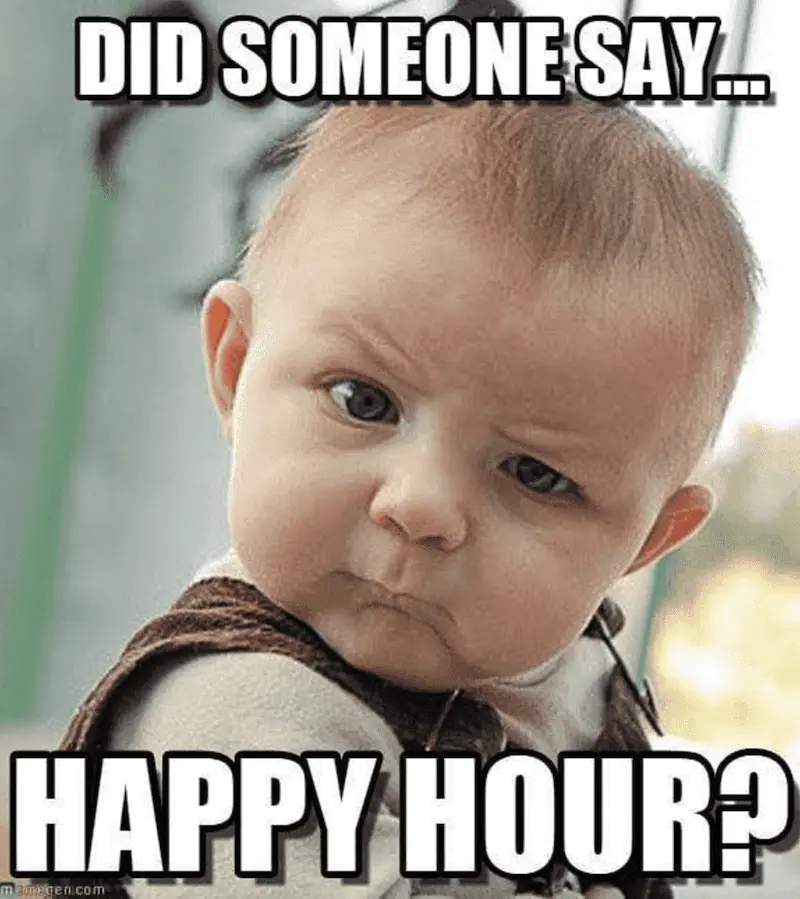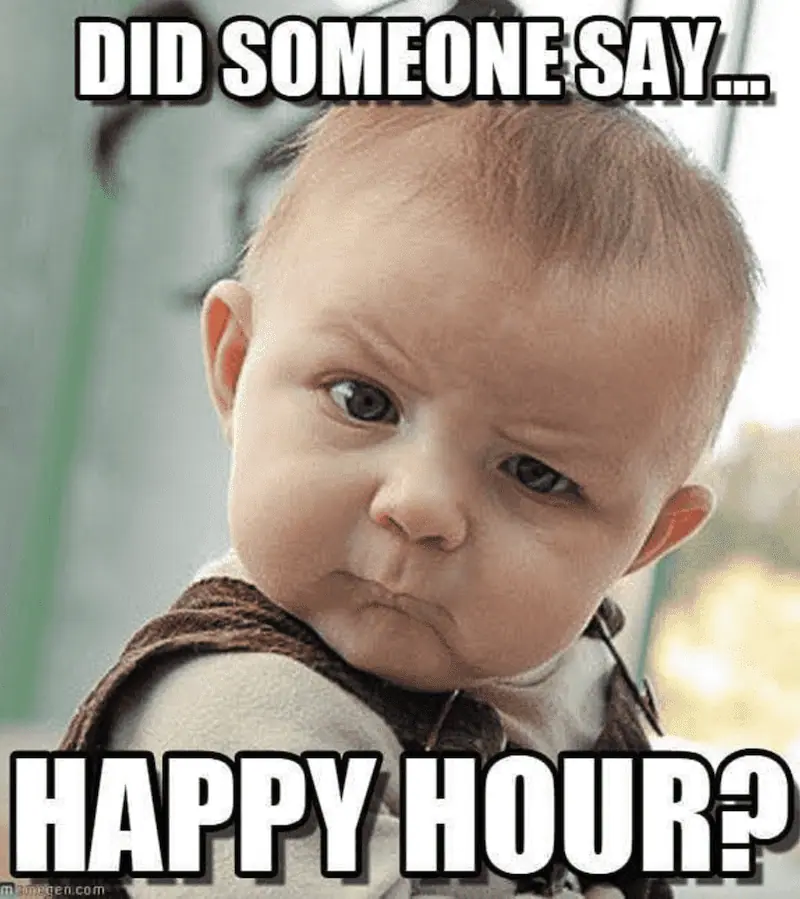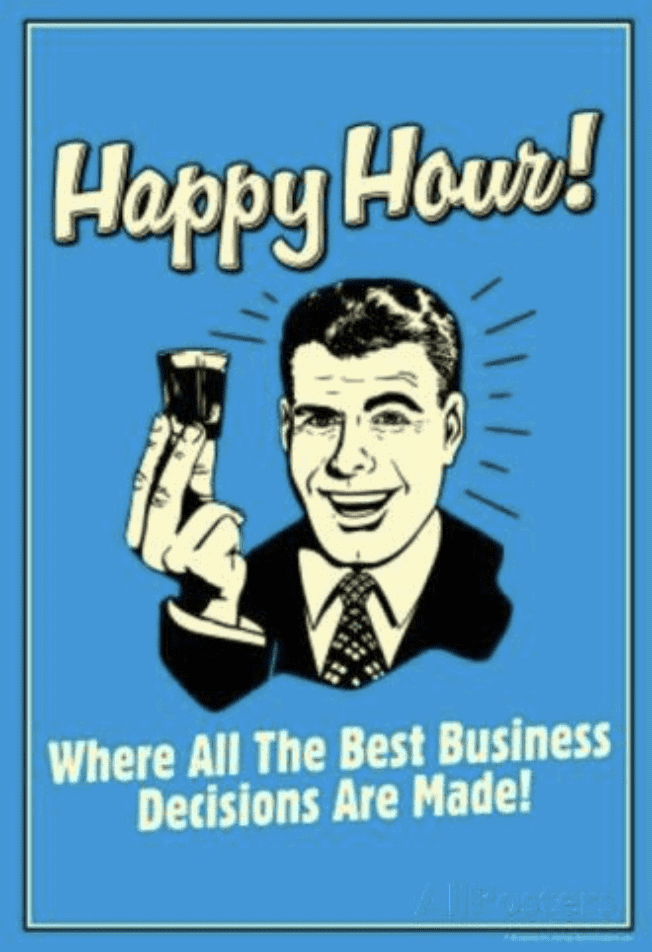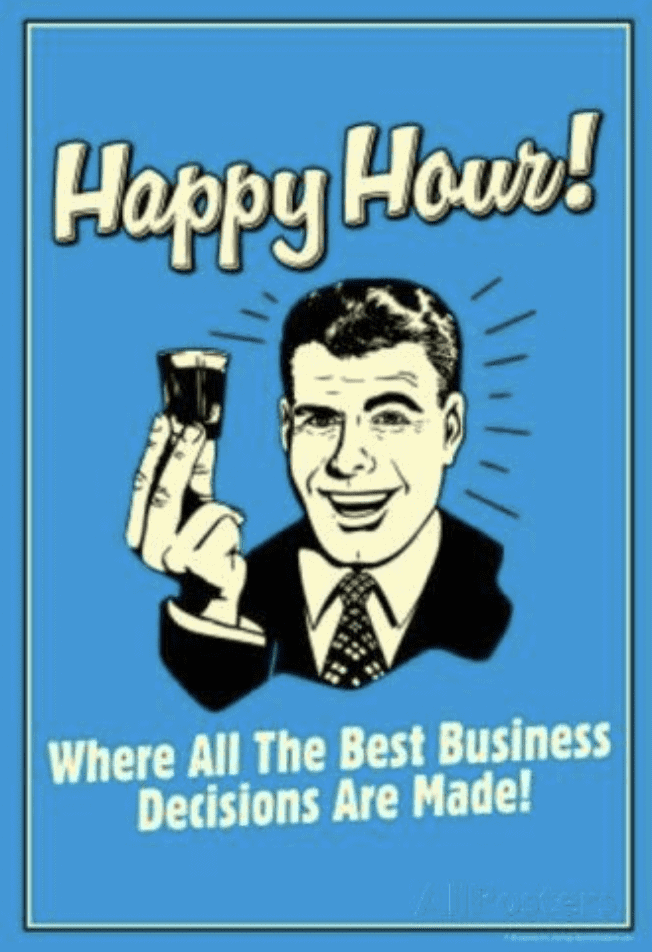 Virtual happy hour memes include activities, specific games, and themes incorporated in the virtual happy hour session to boost employee engagement.
Virtual Happy Hour Activities
Various activities can make your virtual happy hour enjoyable. Besides having fun and building relationships through your virtual happy hour, you can undertake exciting virtual team-building activities.
Explore these entertaining and engaging virtual happy hour activities.
Show and tell
Show and tell allows you to know your team members better. Using this online version of a typical classroom exercise, participants have fun while learning about each other's passions, interests, and life.
You start the session by asking coworkers to display something they will talk about to the other team members. In this case, the members can talk about anything of their choice. To ensure the group members do not find it challenging to develop something, you should notify them in advance.
The meeting request or invitation should probably state that there will be a "show and tell" icebreaker. Invitees will have the chance to prepare something amusing to talk about when given an opportunity. Some of the topics members can talk about include:
What someone is drinking (cocktails, wine, etc.)
Recommend movie, music, or book
Talk about their pet
Showcase their awards
Describe their hobbies and interests
Among others
Compliment Train
Everyone likes praises about the good things they have done. The compliment train stresses this notion and is a great way to motivate employees to appreciate and recognize each other.
The activity begins with one team member complimenting another member for something they did. Then, the person who is complimented chooses another person to compliment. Members who have been complimented are not considered in the following compliment. The activity continues until every member is complimented.
Party tricks showcase
Some people have a funny skill that may not have any practical significance but is extraordinary. Let members showcase their distinct talents with others in the virtual happy hour session. The brave members will enjoy the opportunity to display their abilities.
If the group members are shy, substitute this with a mini-contest to try a weird skill. You could take screenshots or videos during the happy hour to create amusing and unforgettable gifs and mp4s.
Virtual Happy Hour Games
Scavenger hunt
A Scavenger Hunt is a typical and entertaining game during a virtual happy hour. Team members will be hunting for listed things within their homes. Consider this fact as you develop the scavenger hunt list. The team members should locate the items in the list and display them to all members on the call. It would be best to have a list of easy-to-locate items.
Alternatively, you could ask team members to look for specific descriptions such as color, shape, texture, and other characteristics. Be creative, as the options for creating the list are endless. Also, you can adopt a themed scavenger hunt, for example, an alphabet scavenger hunt where participants find items that begin with each letter of the alphabet.
A scavenger hunt game is suitable for a competitive team. Additionally, it requires team members to leave and move around so people are not stuck on their computer screens or mobile phones for the entire period of the virtual gathering.
I SPY
I spy is another exciting game you may have played while growing up. It involves one team member selecting a visible item and giving a description to the team. The description will provide one clue at a time as the other team members try to guess what the item is.
For instance, if a rectangular picture frame is visible to all team members, you could hint by saying, "I spy, with my little eye, something that is a rectangle." If none of your team members guesses the correct item, you provide a second clue. The game continues until someone guesses the correct answer or gives up, and you provide the answer.
I spy is an entertaining game that you can play anywhere. Select difficult items to hear how bizarre your friend's guesses are.
Guess what's hidden or missing
This game checks the attentiveness of participants in a call. The participants randomly select an item within their surroundings to hide. That item should be visible to everyone when the call begins, and all members switch off their cameras for less than a minute while hiding the item.
Then, everyone switches on their camera, and team members start guessing the item hidden in turns. Everyone is given a chance to guess a hidden item twice before guessing another hidden item from the next team member.
Virtual Happy Hour Trivia
Trivia is a stimulating and thought-provoking way of inspiring team members to interact. For trivia to be compelling, you will need a game plan, good questions, and an amiable host. It would be best if someone volunteered to become the host. The trivia host could be any member who would like to take the role.
The host should be chosen before the virtual happy hour event and be given time to prepare. To quickly get attention-grabbing trivia questions, is to search in Google. You could identify a relevant topic to your team members using guidelines such as "weird facts about …" and then create multiple-choice questions.
Virtual Happy Hour Themes
Your virtual happy hour does not need a theme but setting one is certainly a great way to prompt a discussion. Selecting a unique happy hour theme is critical, and you can increase employee involvement and excitement by allowing them to vote on it. Probable themes include:
70s / 80s / 90s night (music, clothing, hairdos)
Funny hats
Wacky hair
Holidays (ugly holiday sweaters, Halloween costumes,
Christmas)
Hawaii (Hawaiian shirts and umbrellas in your drinks)
Sports (sporting the gear of favorite sports team)
favorite vacation/dream destination background
Choose your theme and be consistent throughout the zoom happy hour session, including decorations, music, food, and drinks. People can vote for the best outfit and best-decorated surroundings and give prizes to the winners to make it more enjoyable.
Other Memes
Virtual happy hour memes also include funny images, videos, and pieces of text that some people imitate and are trending on social media. Some of the most common memes under this category include Harambe, Success kid, Condescending Wonka, LOLCats, Squinting Fry, and The Most Interesting Man.
Recommendation
The Virtual happy hour memes you choose will determine the level of engagement and whether employees will long for the next gathering. A combination of contests, action-oriented activities, and a voted-for theme could increase pleasure and make the event memorable. Seek comments or feedback after the virtual happy hour to ensure you improve on the subsequent get-together.
Additionally, if you have any other idea, activity, or game that is enjoyable, you can be creative and include it in your virtual happy hour to engage the team.