This post was last updated on, August 9th, 2023
Who said bingo was for grannies?
Have you ever heard of virtual team building bingo? It's the latest classic that companies are using to build teams in a virtual environment rather than old-fashioned in-person meetings.
Virtual teams, especially virtual sales teams, can face some challenges as they work together on a project: With so many people working across different locations, it may be challenging to get to know one another and form team cohesion. One way around this is to boost team morale with virtual or online versions of traditional board games like bingo!
This blog post will give you our top tips on how to organize a virtual team-building bingo (say that 10 times fast) for your next meeting. And what you can do during each round to make it so much more enjoyable than just sitting around a conference table with everyone staring at their smartphones or laptops.
So get your bingo cards ready, look out for the patterns, and let's get this fun game started!
There's nothing more gratifying than calling out "Bingo!"
Table of contents:
The Basics of Online Team-Building Bingo
Organize Your Team-Building Bingo Session
7 Ideas to Spice Up Your Online Team-Building Bingo
More ideas for online team-building games
Free Bingo Card Printables
The Basics of Online Team-Building Bingo
What is the game of bingo?
Bingo is a traditional game of chance, usually animated and played by people in the same room, where each person has a paper bingo card.
Each bingo card has 24 numbers, from 1 to 75, displayed on a table with 5 lines and 5 columns. The center case is usually a Free space. This means this space is already crossed, like a bonus.
Numbers are called out randomly, one by one. Your job as a player is to listen out for your numbers. When a number included in your card is called, mark it off with a bingo dabber or checkmark to indicate it has been covered and wait for another number to be called.
The game's objective is to get a vertical, horizontal, or diagonal line of numbers. The first to cross an entire line of their bingo card – or their full card – wins. With these newly acquired bragging rights, they get to scream "BINGO"!
Note that you might need to complete specific patterns for advanced versions or cross the entire board to win.
Forget the old-school dabbers and bingo cards. With virtual team-building bingo and virtual bingo websites, all you need is one of our free downloadable templates!
How do you play bingo virtually?
If you want to play bingo games online, you can forget about your bingo cards and bingo dabber!
All you need is a virtual platform or online space where everyone can discuss and have fun together.

It can be a gaming web platform if you want to connect with other unknown players. Or a simple video call with family, friends, or your remote team.
You can also make the virtual bingo games board cards and markers virtual: Create slides (or printable files) that players keep updating as the game goes on.
How do you play virtual team building bingo with coworkers?
Virtual team-building bingo is one of those fun and informal virtual games that you can play during a virtual meeting with your coworkers.
You can include this enjoyable event during a dedicated virtual team-building activity or before starting a team meeting as an ice breaker!
The rules are the same, but to make the most of this team-building, you should personalize the bingo board template to the remote employees and the company.
Instead of crossing numbers, the participants can cross-actions, statements, and inside jokes that will help animate your conference call like never before!
The coordinator of the online team-building bingo reads out loud the statements one by one, and then everyone crosses off, or not, their square.
Each square is a conversation starter, meaning that you can discuss each topic to get to know more about your remote workers and their lives.
Organizing a virtual team-building bingo for your remote workers has benefits:
Know each other better (especially if they are working remotely)
Have fun as a remote office team across different time zones or continents
Improve their communication skills in a virtual setting
Improve the employee engagement in remote work
Energize random or boring conference calls
How do you make virtual bingo fun?
They are a few tricks to making your online team-building bingo activity a bit more entertaining.
First, you can add a touch of competitiveness to the activity by offering a prize to the winner.
You could also customize the game to your virtual team by making your own custom bingo game and board: Use company mascots, popular phrases that everyone uses in the office, inside jokes that happened on your company's social media, etc.
Finally, match your virtual bingo to the events and seasons of the year! Add a related theme to your customized bingo game to make it more lively and original.
Organize Your Team-Building Bingo Session
Team-building bingo instructions
You should set a few rules before the game begins to ensure fun and ease.
What file will the participants use for playing? Will you be using an online platform or some online slides saved on the cloud?
Will the remote employees share their screens as they play?
How long will the online team-building bingo last? Will you send them several bingo cards or a unique one?
How will the winner be defined? Shall it be the first participant to cross one entire line or the full bingo board? Will you build a system with points?
Will you give out prizes to the winner(s)?
Create bingo questions or statements
The first step in organizing your game is to think about 24 actions or statements you want to put on the bingo card.
Like we suggested before, let go of the classical numbers and instead have some fun with surprising statements that fit well with your remote team.
It can include statements such as "wears glasses," "deleted an email without opening it today", or "works in the finance department."
We'll let you think about those, but remember, the more it relates to your team, the funnier the challenge will be.

PRO TIP: Collect responses from all your participants in advance by asking them to submit weird and wonderful facts about themselves. Include those responses on your company-themed bingo card.
Make your own bingo card
Once you write down your 24 statements, the next step is to build the personalized team-building bingo card.
Create a large table with five columns and five lines with even square spaces. Remember, the center case is the free space.
On top of each column, type the letters "BINGO," one letter per column.
Now in each case, type in a single statement.
Once you finish your virtual bingo board cards, the next step is to save them as a picture and insert it in a Powerpoint or Google Slides landscape format document. On the right side, create 24 color stamps/forms that the participants will move to the statement they want to cross off.
Don't have the time or inspiration to create yours? Keep scrolling & Download our free bingo templates below!
Send out the bingo board
Send the virtual team-building bingo boards to all remote coworkers participating in the team-building game before the challenge begins.
If you're using Powerpoint or Google Slides, you can send or share the link with participants by entering their emails and inviting them to the presentation.
Set up the virtual team-building bingo
It's almost time to play, but first:
make sure everyone can access their bingo online board file
has correctly joined the video conference that you previously set up and shared
and has a stable internet connection
Ask them to share their screen so that all players can check how the game evolves – or not that is up to you! Finally, remind everyone of the rules and ensure that everyone has a clear understanding of the activity.
Call out the statements
Now, let's start this game, shall we?
As the organizer of this virtual team-building bingo party, you'll be the moderator.
One by one, call out the statements on the virtual bingo board. Each time a statement is called out, if the participants recognize it, they must cross it off their virtual bingo card by moving one virtual stamp on top of that statement.
Give each player a few seconds to look over their bingo board and discuss each statement before calling out a new one.

Remember that the primary goal of this online team-building bingo is to foster team-building. Let each virtual team member have the opportunity to share their experiences, jokes, and stories about the topic they just addressed!
Ending of the virtual team-building bingo & claiming of the winner
Usually, the bingo winner is the first person who successfully crosses off an entire row, column, or diagonal line.
We recommend including a few incentives such as remote work prizes to challenge the group more.
It can be as simple as "start one hour later tomorrow morning," "receive tomorrow's lunch at your door," or "skip this specific meeting," for example!
On the contrary, you could also motivate the employees not to lose with funny dares such as "the loser will have to sing a song in the next team meeting."
Those ideas should engage the group and give it an extra dose of fun!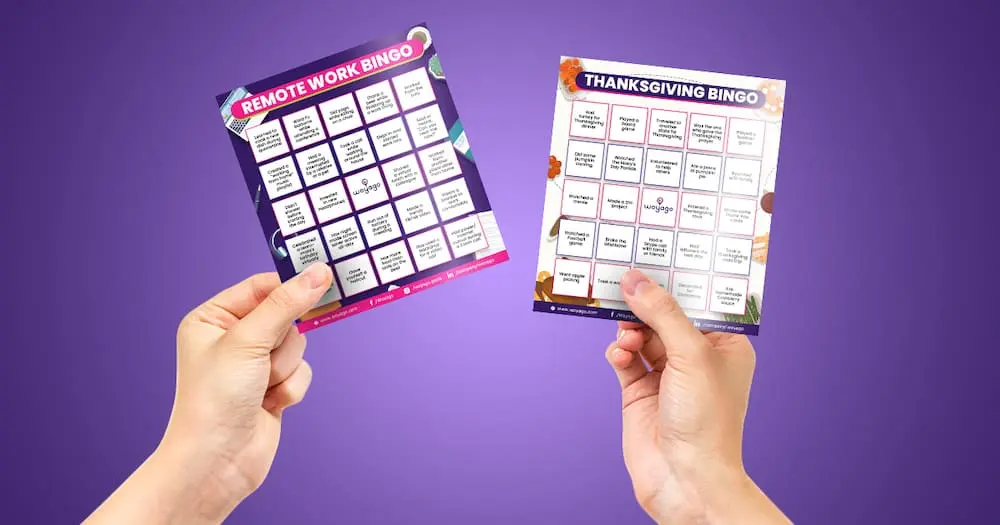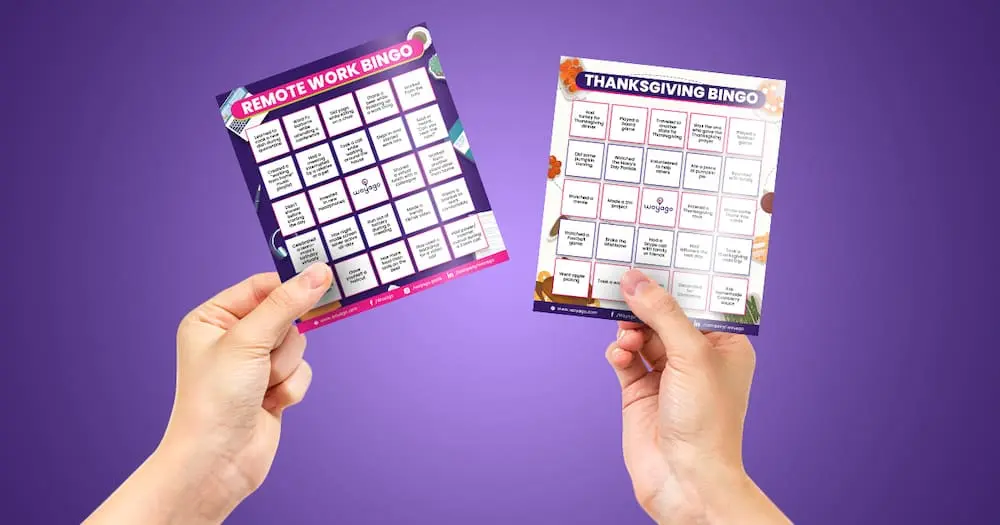 Thanksgiving, summer holidays, travel the world – are all great themes for a virtual bingo game.
7 Ideas to Spice Up Your Online Team-Building Bingo
A fantastic method to make your virtual team-building bingo intriguing to everyone is to give it a theme.
Pick from the seven following ideas to build your own virtual bingo team building template or download one of our free online team-building bingo boards!
Team members' special edition Bingo
In this first theme, you can make all the statements based on your team members.
Choose from physical characteristics, job positions in the company, projects they were involved in, etc. Whenever participants recognize themselves in the statement, they'll need to cross off that space.
Here are a few statements to help you get started:
Has blue eyes
Wears glasses
Arrived last or first on the team
Has a beard
Is part of the Marketing Department
Has or had a romance in the office
Has worked on the project XX
Has a hands-on job
Remote work online team-building Bingo
We know that working from home has created some pretty unexpected situations. That's why another original and fun virtual team-building bingo theme could be making statements about remote work.
They could be based on specific skills remote employees developed while working from home, fun facts that happened during a video conference, or how your remote team organized itself.
Learned to cook a new dish during quarantine
Once – or more – wore PJ bottoms while attending a conference call
Did yoga while sitting on their chair
Drank a beer while finishing up a work thing
Worked from the sofa
Created a "working from home" music playlist
Had a meeting interrupted by a relative or a pet
Took a call while walking around the house
Video Conference Bingo
This video conference bingo template can be used during live conference calls without a moderator. It's a different version of the one we presented before.
Set this up at the beginning of a virtual conference and play the game during the entire team meeting. When someone does or says something related to the bingo board, you have the right to cross it virtually.
In this case, bingo card screens should not be shared, but all team members should have their cameras on. It's not about luck anymore; it's about attention to detail and speed on screaming "BINGO!"
Here are a few ideas for your template:
Someone says, "Can you see my screen?"
Someone gets up
Someone says, "We can't hear you…."
Someone drinks a sip of water
Someone yawns
Someone says, "Sorry, I was on mute!"
Someone says, "I'm gonna share my screen."
Spotted a pet in the background
Travel the world team-building bingo
This next theme is traveling the world, so let's escape for a few minutes!
This virtual team-building bingo game is all about locations, countries, and activities that remote workers have been to or done while traveling.
Here are a few ideas:
Has already been to Europe
Can speak a second language
Spent the night in a tent on a beach or field
Has been to Asia
Has been on a religious trip
Has crossed the United States by car or train
Has been scuba diving or snorkeling at least once in their life
Met someone while traveling with whom they're still in touch.
Teammates' Tastes Bingo
The statements of 'Tastes Bingo' are based on the personal tastes of all employees, allowing the team members to get to know each other better.
This bingo theme is ideal for playing online to incite a virtual team-building experience bonding over food.

If your remote teams just started working together, we recommend this specific team-building online bingo game to help employees discover tastes and spark conversation.
Here are a few statements you can use for this type of bingo:
Watched every single episode of Friends
Would eat horse meat without hesitation
Likes to search for hidden gems or jewels in their spare time
Can't stand the taste of tequila
Loves to practice sport at least once a week
Is a fan of James Bond movies
Only eats vegetarian food
Has been to Disneyland and loved it!
Thanksgiving team-building bingo
Organizing seasonal and fun virtual team-building activities are always a great way to welcome back your remote teams after a vacation break. It allows everyone to discuss their time off and start on the right track!
An example of a seasonal bingo could be a Thanksgiving-themed bingo. Here are a few statements you could use:
Did not have turkey for Thanksgiving dinner
Played a board game
Traveled to another state for Thanksgiving dinner
Was the one who gave thanks before sharing dinner
Played a football game
Went to church
Volunteered to help others
Ate pumpkin pie
Summer holidays team-building bingo
For this last virtual team-building bingo theme, another seasonal activity to welcome back remote workers after summer break or meet new company incomers: The Summer Holidays Bingo!
Here are a few statements to inspire you:
Went to the Pacific Coast
Went Scuba diving or Diving
Ate some sushi
Got a sunburn
Went to a different country
Flew on a plane
Picked up seashells or stones while walking on the beach
Visited a water park
---
As you can see, Bingo days are not over! Bingo has been around since the turn of the century, and it's still a popular pastime.
It has re-entered the business world to challenge remote teams into building friendly and collaborative atmospheres. And it's an ideal team-building activity that gives employees a chance through free games or budget-friendly games to discover each other, spark conversation, or learn new facts about their virtual colleagues.
Considering its benefits, adaptability, easiness to be understood by any generation, and flexibility to play online or in person, bingo will quickly become one of your best virtual team-building activities!
FREE Download & Print Bingo Cards
Download or print our fun and free bingo cards for your next team meeting. Choose from our travel, remote work, or Thanksgiving-themed Bingo cards.
Need Some More Ideas for Online Team-Building Games?
At Woyago, we have plenty of other ideas for online team-building games:
Check out one of these ideas above or browse our blog to find what you need. If you want to save yourself the trouble, just ask our team to organize a tailored-made virtual team-building!
PS: If you had a fun time using one of our templates, don't be shy – share it around. Or, even better, write a quick company post about it and link to https://woyago.com/virtual-team-building-bingo/.